University of Newport fee cut 'risks losing places'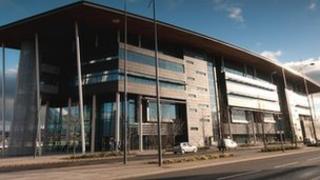 A university that has agreed to cut its tuition fees by £1,100 next year is urging the Welsh funding body to rethink changes to student places.
Average fees at The University of Wales Newport will fall to £7,500 from 2013.
It says it is responding to plans to offer universities extra student places for reducing fees but it may still mean it loses 20% of its full time students.
The Higher Education Funding Council for Wales (Hefcw) says all institutions will be better off.
The idea from Hefcw is to help ensure that priority subjects, such as the sciences, technology, engineering and modern foreign languages, continue to get the investment they need.
Those subjects account for around 50% of all full time undergraduate places in Wales and are protected.
The other 50% of the places are in non-priority subjects like the arts and humanities.
Of those, half of places will be reallocated to those universities that have dropped average fees to below £7,500.
The rest will be reallocated to universities that meet Welsh government targets in areas such as research income, total income, spin out companies and the number of foreign students.
Newport's concern is that it does not score well in hitting those Welsh government targets, and that the targets chosen do not include widening participation where it performs well.
As a result, it says it will lose far more students than it gains from dropping its fees.
It is warning that rather than gaining students it will potentially lose 20% - and possibly up to 40% - of full time places in 2013 because of the way the new system is designed.
Newport, which is being asked to merge with other universities in south east Wales, says that is equivalent to the loss of millions of pounds of funding which will impact on courses and teaching staff.
Dr Peter Noyes, the university's vice chancellor, said: "I do not for a second believe that there is a deliberate wish to remove at least 20% of full time places from Gwent and give them to other parts of Wales, meaning fewer opportunities for local people and less support for the local economy.
"Further dialogue"
"Nor do I believe that there is a deliberate wish to place one of the constituent parts of the proposed new University for South East Wales into a less secure financial position before we have even begun negotiations over reconfiguration.
"However, as currently proposed, that is what this policy will do."
Professor Philip Gummett, chief executive of Hefcw, said the new fee arrangements would "on reasonable assumptions" increase the total funding available to higher education in Wales.
He said it had been made clear to Newport that due to the complexities involved, careful consideration would be given to how the proposed changes affected each university before final decisions were made.
"That is likely to involve further dialogue, but we do not consider it helpful to conduct that dialogue in public or on the basis of unsubstantiated assertion," he added.