Council prayers: Newport parties urge worship at meetings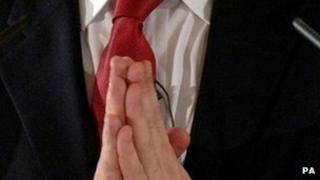 A call for formal prayers at council meetings has united councillors across the political divide in Newport.
The city's Conservative group leader has asked Local Government Minister Carl Sargeant to allow prayers to be put on the agenda of council meetings.
It was the latest response to a High Court ruling banning them from the formal agenda in Wales and England.
Mr Sargeant has made it clear that he believes councillors should be able to gather for prayers before a meeting.
Newport councillors met for prayers ahead of the official start of the city's full council meeting on Tuesday.
Newport Conservative group leader Peter Davies said the informal gathering was complimented by mayor Margaret Cornelious for its unanimous attendance.
Mr Davies has written to Mr Sargeant asking him to intervene in Wales, in the same way that UK Communities Secretary Eric Pickles has in England with the aim of overturning the court ruling.
Mr Pickles has called the judgement "illiberal" and said he was bringing forward the "general power of competence" in theLocalism Act 2011as a blow against "modern-day political correctness".
The power enables councils in England legally to do anything an individual could do unless specifically prohibited by law.
But it does not apply to local authorities in Wales, although the Welsh government does have the power to legislate in this area.
Mr Davies said: "Given the fact that this started out as an English row with an English council and the London equivalent of Carl Sargeant has dealt with it, I don't see why Wales should be left behind.
'Total agreement'
"Cardiff Bay has dithered on this."
Labour councillor Allan Morris said: "It's all about respect and tolerance."
Mr Morris said prayers were an essential part of the tradition and custom of meetings and they set the tone.
"It's the only time there is total agreement among all the political parties. I don't know anyone on the city council who objects."
"There are many different religious views. But because somebody does not agree with them, that should not stop others."
Newport's change in its prayers procedure follows that of Cardiff last week when councillors moved their prayers ahead of meetings as they did not wish to act unlawfully following the High Court ruling.
The Welsh government has the power to legislate in this area in a similar way to Mr Pickles, but a statement issued last week on behalf of Mr Sargeant appeared to dismiss that prospect.
A spokesperson for Mr Sargeant said: "With record unemployment, huge cuts to funding for English local authorities, cuts to vital public services and the abolition of council tax benefit, one really has to wonder if this is the most urgent matter crossing Eric Pickles' desk.
"However, as a Welsh Labour minister, Carl Sargeant will be focusing on how he can help to protect Welsh communities from the worst of the Tory/Lib Dem cuts through protecting local authority budgets, tackling poverty in our most deprived communities through Communities First and keeping our streets safe with our additional 500 community support officers."