All Saints Church, Maerdy, parishioners to lease building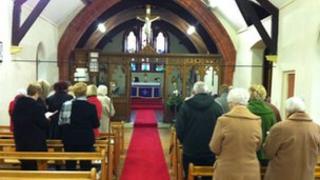 Parishioners of a Rhondda church have accepted an offer to lease the building for a year, giving them time to prepare a business plan for its future.
The Friends of All Saints Church in Maerdy agreed to buy the building from the Church in Wales for £1,000 after a month-long sit-in to save it.
But the building needs repairs of around £400,000 which it cannot afford to pay for it.
So they have taken up the Church in Wales' offer to lease it for now.
Peter Blake, a former church warden and a leading figure in the Friends of All Saints, said the move was "common sense".
"To lease it for a year, it's not going to cost us anything," he said.
"We are going to get things ready and this gives us a year to apply for grants. We can't afford the initial outlay of £400,000.
"We need a building in Maerdy and we need it this year to prove to people we can raise the money."
The last official regular service at the Rhondda church took place in July after the local parochial church council decided to close it because it was considered unviable.
Since then, those who attend the church are still holding unofficial "songs of praise" services every week. No member of the clergy is present.
The group has the money to buy the building, but working out how to carry out the repairs and getting the professional advice needed is proving tough.
Alex Glanville, head of property services for the Church in Wales, said: "We believe this is the sensible way forward for the Friends of All Saints as it allows them time to plan properly for the future of the building without the huge burden of its ownership.
"The project will be a significant challenge for all involved but we hope, with the support of the community, it will have a successful outcome."