Blaenavon HSBC bank closure to go ahead despite petition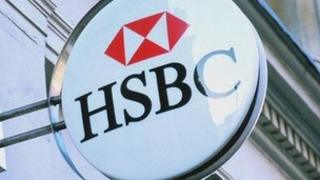 More than 1,000 people have signed a petition calling on HSBC to rethink its decision to close the only bank left in a town in Torfaen.
Blaenavon town council called a public meeting on the issue and councillors have met HSBC manager to put the case.
Welsh MPs this week led a debate in Parliament raising concerns about the impact of rural bank closures, saying they were crucial to local economies.
HSBC has said the branch will close on 11 May due to lack of business.
More than 120 people attended the public meeting in January and town councillors said more would have been there but for icy weather keeping many elderly residents at home.
They claim the branch is a lifeline for townsfolk who face travelling to Pontypool or Abergavenny, each about six miles (10km) away, for alternative banking facilities.
Mobility problems
Mayor Stuart Evans says he spent three days knocking on doors with fellow town councillors Janet Jones, Pauline Whitcombe, Brian Whitcombe and Elwyn Griffin to collect around 1,200 signatures for the petition, which was handed in to senior managers.
He said: "We were very disappointed at the attitude of HSBC. We didn't expect a miracle, they are a hard-headed business at the end of the day.
"But it's vitally important that we have a banking facility in Blaenavon.
"We have an elderly population who do not have transport and a lot of young people who are out of work with no car ownership.
"Their nearest bank will now be six miles down the road. People will be on public transport.
"For young people on benefits it's a large chunk of their money. The elderly have mobility problems getting on a bus."
Mr Evans said the closure raised the problem of how locals firms would handle their cash at the end of the working day.
'Under used'
HSBC said it had received the town's petition but was still planning to close the Blaenavon branch as announced.
A spokesman said: "Clearly we recognise the strength of feeling locally but it does not alter the fact that the branch is one of the most under used in the country."
He said the bank was working with customers to make sure they were prepared for the closure, and had been offering advice on internet and telephone banking.
He added: "We're leaving an ATM (cash machine) there so there will be access to fee-free cash."
Blaenavon is not the only town to oppose HSBC proposals to scale down its branch network.
More than 500 people in Presteigne, Powys, have signed a petition against the closure of the branch on 9 March.
HSBC is planning to site a new cash machine in the town which has a population of around 2,400.
The bank has closed or is in process of closing 20 branches in Wales since 2009, although not all of them are rural branches.