Islamic meeting: Mohammed Abdin jailed for Canton threats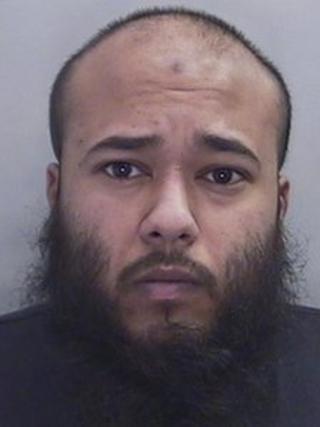 A man has been jailed for eight months after threatening to shoot police and council officials at an anti-terror raid on a Muslim meeting in Cardiff.
Mohammed Abdin, 21, from Grangetown, Cardiff, threatened officers who broke up a meeting of the Supporters of Tawheed at Canton Community Hall.
He committed the offence days after receiving a suspended sentence for affray on the 10th anniversary of 9/11.
Abdin, who admitted the offence, was sentenced at Cardiff Crown Court.
The court heard Abdin became very aggressive and shouted at police, "I'm going to cut your head off" and "I'm going to shoot you with a machine gun".
The court was told that when arrested, he told a police officer: "In 10 to 15 years when we rule, I'm going to hunt you down and kill you. You're going to burn to death".
Abdin previously pleaded guilty at Cardiff Magistrates' Court.
On 19 January anti-terror police raided the hall following complaints made about the group.
The Welsh Extremism and Counter Terrorism Unit has defended its actions as "entirely proportionate".
But defenders of the group said it was a study class and unrelated to terror.
Abdin's father Mohammed Abdin Snr angrily claimed outside court that his son was innocent.
"This boy is one of the brightest," he said.
"Just because he's got a beard and is a Muslim boy, that's why this is happening.
"He's a graduate. Because of something that's happened he's got sacked by his work.
"He's got paid wrongly because he's a Muslim."