Nikitta Grender murder: memorial hopes in Lliswerry, Newport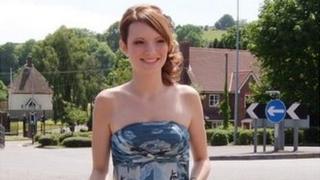 A lasting tribute may be put up to pregnant teenager Nikitta Grender, who was murdered in her home.
Members of the community in Lliswerry, Newport, say they would like a memorial to the 19-year-old killed murdered by her boyfriend's cousin a year ago.
Carl Whant, 27, of Bettws, Newport, was jailed for 35 years on Wednesday after being convicted of rape, murder, arson and child destruction.
One local councillor said the area was trying to come to terms with events.
Councillor Roger Jeavons, who represents Lliswerry, told BBC Wales the community was struggling to come to terms with Miss Grender's murder.
"I think they're just devastated. These sort of things don't happen," he said.
"We are a good community, there are lots of good things in the community and these sorts of things just knock us back."
Mr Jeavons said a memorial may help some local people.
He added: "I've certainly had phone calls about it and I would support that. As to where it would be placed, that's up for debate."
Mr Jeavons said Ms Grender's family should now be left alone to "grieve and get back to normal".
"The family now have an outcome but it's still just as devastating for the family and close friends," he said.
"How do you ever get over the death of a young family member, let alone one with the new chapter of her life about to begin."
Whant killed Ms Grender before setting fire to her flat and then returned to a party he had attended with her boyfriend, Ryan Mayes.
Judge Mr Justice Griffith Williams called Whant "calculating, vain and devious" as he was sentenced.
The victim's family said the past year had been "harder for us than you could ever imagine" and they remained in "total disbelief as to what has happened".