Nikitta Grender case: Carl Whant denies being near flat on night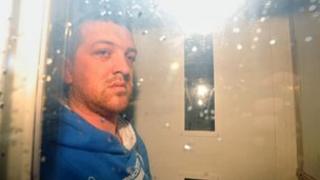 A murder defendant has denied being near the flat of a pregnant teenager on the night she was killed and her home set on fire to disguise the crime.
Carl Whant, 27, of Bettws, Newport, is accused of stabbing Nikitta Grender, 19, to death in an attack that also killed her unborn child last February.
He denied using a route shown to Newport Crown Court by police, but says he had consensual sex with her earlier.
He denies murder, rape, arson and child destruction. The trial continues.
Miss Grender's body was found in her burned-out apartment on the city's Broadmead Park estate two weeks before she was due to give birth to a girl.
She and her partner, Ryan Mayes, 17, had already named the girl Kelsey-May.
Mr Whant, a former nightclub doorman, claims he was invited to have sex with Miss Grender by Mr Mayes, his second cousin, on the evening before she was killed.
The accused's DNA was discovered on her during a post-mortem examination.
But prosecuting barrister Gregg Taylor QC said Mr Whant had changed his account of what had happened when new evidence came to light.
"When you told the jury about this sex, you were making it up. It's pure invention," said Mr Taylor.
"It wasn't until December of last year the prosecution received notice from you that your case had changed. Why did it take so long?
"Can I suggest to you that because the police had found the semen in Nikitta's body that you now had to find an explanation for it?"
Mr Whant said that was not the case.
The court was also told that he refused to answer any questions in his first six police interviews following his arrest.
Feeling unwell
He told defending barrister Christopher Kinch QC this was because he had already answered questions in a previous statement.
He had eventually decided to talk and said he was concerned about what the headlines were saying about him, as well as whether there would be any repercussions for his family.
He had denied in police statements having any sexual contact with Miss Grender.
On 12 February, during an official disclosure process, Mr Whant was told semen had been found inside her body.
He then complained of feeling unwell and refused to answer questions.
"My head was all over the place," Mr Whant said. "I thought how could I be arrested for something like this.
"I was also concerned about everyone else. I was concerned about it being over the headlines and people finding out where my parents, my girlfriend and nan lived."
Mr Whant was asked by Mr Taylor why he had not mentioned to police about having sex with Ms Grender at the invitation of Mr Mayes.
He said he did not want to upset his girlfriend Rachel Bird or Mr Mayes.