New Rumney high school consultation programme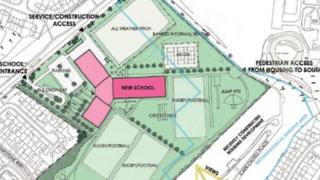 Cardiff council is holding a series of public meetings, displays and drop-in sessions to explain its plans for a new high school in the east of the city.
The previous plans - to build a £22m new school on a local recreation ground - were dropped after protests.
The new plan is to accommodate pupils from Rumney and Llanrumney High schools in a new building on the Rumney site.
The council says there are currently more than 1,600 surplus places at the two schools.
The first public meeting on the proposals is held at Llanrumney High School on 28 February. A second public meeting is held at Rumney High School the next day.
Under the proposals, the phased construction of a new 11-16 Eastern High School will go ahead on the Rumney site.
The existing high school premises will house the new school from September 2014 while the work is carried out.
Previous plans for replacing the schools had ruled out using the high school site on cost.
Recreation ground
The consultation document says the site is now considered affordable due to a reduction in the site now needed, the phasing of the construction and a 50% contribution from the Welsh government.
The local authority partly blamed a drop in funding from the Welsh government for the rethink on replacing the two schools.
The council said it had dropped the proposal to build on Rumney Recreation Ground after the Welsh government announced last year that investment in its schools building programme was being reduced.
The Welsh Government said Cardiff has made the decision on "funding that was never agreed".