Poet WH Davies' final home 'could be repaired by Christmas'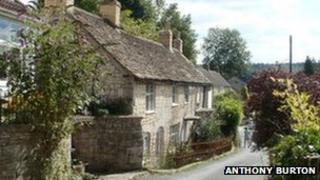 Campaigners fighting to save the last home of poet WH Davies hope they have warded off the threat of a compulsory purchase order.
The Newport-born poet's great-nephew Norman Phillips, 78, is facing a five-figure sum for repairs on Glendower, a cottage in Nailsworth, Gloucestershire.
Supporters say they have had a positive meeting with Stroud District Council which threatened to take possession.
Building work is due to resume in April and could be finished by Christmas.
Fund raising
William Henry Davies - author of the poem Leisure and the Autobiography of a Super-tramp - moved to Nailsworth in 1928 and spent his final years in the 18th Century cottage until his death in 1940.
His great-nephew lived in the Grade II listed property for nearly 60 years, but moved out in 2003 after a heart attack.
Mr Phillips has already spent £40,000 including roof repairs but further internal and external work still needs to be done.
In 2010 the Friends of Glendower group was formed by villagers to help Mr Phillips raise the necessary funds to restore the building.
But in September of that year, Stroud District Council threatened to step in and take possession if the work was not completed.
Mr Phillips successfully applied for planning permission for repairs, but in January 2012 the council again threatened to step in believing progress had been too slow.
'Positive' meeting
However, Anthony Burton, who founded the Friends of Glendower, said they had a "very positive" meeting with the council in early February.
He said they were confident the work on Mr Phillips' property would start in April once the risk of frost had passed.
"We're hopeful he'll be back home by Christmas," said Mr Burton.
"We've raised enough to cover a third of the cost of repairs and Mr Phillips is looking at getting a mortgage to cover the remainder," he said.
"We've found a builder who has restored his own historic cottage and is willing to work with volunteers, so he seems to be the right man for the job."
Volunteers are also clearing the back garden to plant an orchard.
Barbara Hooper, who has written a biography of WH Davies, welcomed support from all over the world.
"The work on this historic but presently uninhabitable 18th century cottage... has support from descendants of the poet in New Zealand and the United States as well as a growing membership for the group Friends of Glendower, she said.
"The long-term aim is to make it habitable again and possibly have one room for a collection of Davies memorabilia, open by arrangement for students and lovers of his work."
Deterioration risk
Stroud District Council said it was a long way from seeking a compulsory purchase order, but it was keen to see that the repairs it granted permission for in 2010 were carried out.
"The council is in discussion with Mr Phillips in order to firm up a timetable for the repairs," said a spokesperson.
"If this is not forthcoming, the council will consider the issuing of a repairs notice. In the mean time, Mr Phillips is in council accommodation, the building being unfit for habitation.
"The issue of compulsory purchase is not one which the council wishes to pursue at the present time, but the logical (and legal) progression from failing to comply with the repairs notice is that an application for compulsory purchase is made.
"We are a long way from that, but it is an inevitable consequence if the building is not repaired soon. We are anxious that the building is repaired quickly to prevent further damage and deterioration."