Doctor Who studios 'focal point for creative industry'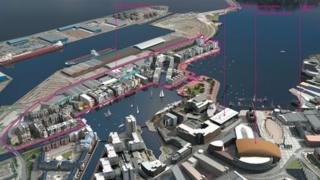 Ministers have unveiled plans to turn the last undeveloped piece of Cardiff Bay's waterfront into a centre for the creative industries.
The Porth Teigr project will host up to 8,000 jobs when completed, the Welsh government said.
The site already includes BBC Wales' Roath Lock studios, built to film drama such as Doctor Who and Casualty.
As well as shops and restaurants, the finished project will include some 1,000 homes.
Business Minister Edwina Hart announced the second phase of regeneration work at the Welsh-government-owned site.
When finished there will be homes, shops and businesses with floor space of 2m sq ft - an area the size of 64 Millennium Stadium pitches.
The Roath Lock drama village - the first building work completed on the site - has been given a Breeam outstanding certificate for its green credentials.
The complex is the first industrial building in the UK to get the highest possible environmental rating.
'Long-term investment'
Mrs Hart said: "Porth Teigr represents a long term investment by the Welsh government in the future of Cardiff our capital city and 2012 promises to be a significant year as we enter the next phase of regeneration and development."
She added: "The presence of the BBC Wales studios provides a strong focal point around which we want to create a central hub and cluster for the creative industries across South Wales where companies can work together, share ideas and develop collaborative links with other facilities in the area."
A Doctor Who Experience visitor centre is due to open in the summer.
BBC Cymru Wales director Rhodri Talfan Davies said: "BBC Wales isn't just the national broadcaster for Wales - it is also a major provider of programming for the BBC's networks.
"With international successes like Sherlock¸ Doctor Who, Upstairs Downstairs and Merlin, we're taking Wales to the world, and the creative potential of our new Roath Lock studios for growth and future collaboration is already clear."
As well as shops and restaurants, the finished project will include some 1,000 homes.
The Welsh government has spent £12m on a road and bridge to the 38-acre site, part of the old Roath Dock which was built in 1874.