Cardiff City FC apologises over Carling Cup final tickets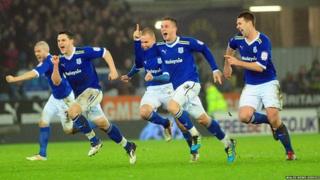 Cardiff City FC has apologised for problems with online ticket sales for its Carling Cup final match against Liverpool at Wembley on 26 February.
Tickets for season ticket holders went on sale on Sunday, but some fans complained they were having trouble connecting to the site.
Ticketmaster is operating the club's online sale and it said it hoped to solve the problem soon.
Fans buying tickets at the Cardiff City Stadium faced a 90-minute wait.
In a statement on its website, Cardiff City said: "This morning, despite assurances of a full resolution from Ticketmaster, there are still residual issues with their online and telephone booking systems, on which we are told Ticketmaster engineers are currently working to resolve."
It added: "We apologise on behalf of Ticketmaster to those suffering purchasing issues and will keep you informed on progress throughout the day."
The club appealed for fans not to telephone the stadium or the ticket office.
It said it was servicing queues at the stadium as quickly as possible.
The Carling Cup final appearance is Cardiff's first in the tournament and their fourth appearance at the new Wembley Stadium since 2008.