Llanwern steelworks road relief for Newport M4 bottleneck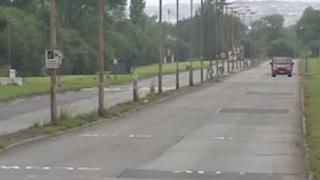 An old access road through a steelworks is being turned into a £13m dual carriageway linking south Newport with the M4.
Work starts this week on the three mile route that was once a private access to the Llanwern plant.
The Welsh government said it would help ease congestion on the motorway at Newport and at the Brynglas tunnels.
It is being built as an alternative to the proposed M4 relief road which was scrapped in 2009 because of cost.
Ministers said they could not afford the £1bn.
The work to turn the road into a dual carriageway will take a year and will connect Newport's southern distributor road with junction 23A of the M4.
As well as improving links around the city it will also provide an alternative route should a major incident shut the motorway at Newport.
A lorry fire closed the Brynglas tunnels on the M4 for several days last summer causing traffic chaos and sparking renewed calls for a full-blown relief road.
Regional Conservative AM William Graham and some business leaders say the 2009 plans should be revisited.
Transport Minister Carl Sargeant said the Llanwern carriageway would help solve some of the traffic issues.
"Bringing the former access road of the old Llanwern steelworks up to a public highway standard carriageway will help ease congestion on the M4 around Newport," he said.
"The development of this new road, which is both sustainable and affordable, will also have a positive impact to the economy of south east Wales both in terms of improved transport links for business but also in terms of the construction jobs that will be created."
A public exhibition to explain the construction works and traffic management arrangement will be held on 28 February at Ebenezer Baptist Church in Magor between 13:00 and 19:00 GMT.
The Welsh government said every effort would be made to keep disruption to a minimum during construction which is expected to be completed in Spring 2013.