Stock Exchange bomb plot: Wales Institute for Muslim Affairs reaction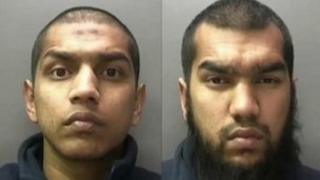 A Welsh Muslim think-tank says more must be done to tackle extremism after two Cardiff brothers were jailed for plotting to bomb the Stock Exchange.
Gurukanth Desai, 30, and Abdul Miah, 25, were among nine men jailed on Thursday for the plot.
Dr Masood Yousef, a director of the Wales Institute for Muslim Affairs, says their convictions came as "a shock but sadly not as a surprise".
He said everyone could play a role to ensure Wales remained safe and secure.
Swansea-based Mr Yousef, 35, said although more was now being done to tackle extremism it had been "present and left largely unchallenged" for many years in cities across the UK.
"We have to welcome the increasingly robust way in which both the police and local authorities are taking action to disrupt the activities of radicalisers who provide the mood music for violent extremists and often seek to justify or condone their actions," he said.
"Alongside this, there have been some notable efforts by Muslim communities in Wales to refute the arguments of such people, but we can and will do more."
He said the London bomb plot case showed the need to put tackling extremism ahead of "many pressing social issues" affecting Muslim communities.
He added: "I think communities across Wales can have confidence in the ability of the police to identify and arrest terrorist plotters, but more needs to be done to prevent young men and women getting drawn into this in the first place.
"We all have a role to play in ensuring that Wales remains a safe and secure place and that no-one living in Wales is allowed to threaten the safety of others either here, in other parts of the UK or globally."
"Brainwashed"
Following Thursday's sentencing South Wales Police said they recognised the trial may have raised concerns about extremism in Cardiff and elsewhere.
South Wales Police assistant chief constable Matt Jukes said: "We are only too aware that our efforts do not end here with today's sentence."
Cardiff councillor Mohammed-Sarul Islam said he believed the plotters were radicalised by Islamic extremists while in prison.
"I believe they've been brainwashed, most of these boys have been brainwashed inside of the prison," he told BBC Wales.
"When they came out they became self-made clerics.
"They came to the community, they tried to tell the community their philosophy and their beliefs which is totally different from what we've been believing for thousands of years."
Desai and Miah, who both lived in Cardiff's Riverside area, pleaded guilty to engaging in conduct in preparation for acts of terrorism by planning to plant a bomb in the toilets of the London Stock Exchange.
Miah, 25, was jailed for 16 years and 10 months while Desai, 30, was sentenced to 12 years.
Omar Latif, 28, also from Cardiff, admitted attending meetings with the intention of assisting others to prepare or commit acts of terrorism. He was jailed for 10 years and 4 months.
The terror group, which also included men from Stoke-on-Trent and London, had planned to raise funds for a terrorist camp in Pakistan and recruit Britons to attend.