Simon Weston wants South Wales Police Commissioner job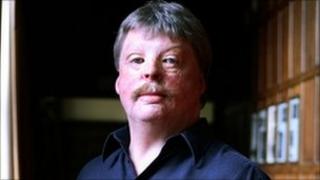 Falklands War veteran Simon Weston is to stand in the election for South Wales Police Commissioner.
He is to run as an independent candidate and said the new role needed someone who wasn't a politician.
Alun Michael, MP for Cardiff South and Penarth, and Rhondda councillor Paul Cannon, a former police officer, are both seeking to be Labour's candidate.
The elections in November will create police and crime commissioners in 41 force areas of England and Wales.
The 50-year-old from Nelson, Caerphilly, who now lives in Cardiff, said he thought the post should go to someone who was not afraid to speak their mind
"If you get two politicians standing people will vote for their party," he said.
"The post needs someone who ensure people work together ad not create divisions."
Mr Weston suffered 46% burns to his face and body after the ship he and his army regiment were on, the Sir Galahad, was bombed off the Falkland Islands in 1982.
Since then he has gained a high public profile for his charity work and was awarded the OBE for his work in 1992.
He also set up the national youth charity the Weston Spirit, which ran for 20 years until 2008.
Mr Weston said he had received support from his family and friends for standing for the commissioner post.
He is now looking to put a team together to help with an election campaign.
Setting police priorities
Although being introduced by their coalition UK government with the Conservatives, the Liberal Democrats say elected police commissioners are not party policy.
Welsh Lib Dem members standing as candidates will not receive party funding.
Meanwhile, the Welsh Conservatives are still considering their position on fielding candidates.
Although they opposed creating police commissioners, Labour will field candidates in all four Welsh force areas.
The elections on 15 November will create police and crime commissioners in 41 force areas of England and Wales, outside London.
Duties for the £85,000-a-year post will include setting priorities for their police force, overseeing its budget and hiring the chief constable.