Facebook drinking posts teacher Elizabeth Scarlett reprimanded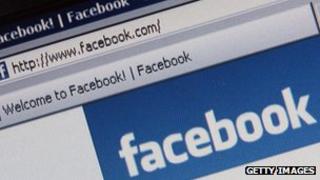 A teacher has been reprimanded after comments about drinking and parties appeared on her Facebook site and were viewed by pupils.
Elizabeth Scarlett was disciplined by the General Teaching Council for Wales.
But Mrs Scarlett, 50, who used to teach at Trinant Primary School in Crumlin, Caerphilly county, claimed her former partner posted sexual comments.
Because the panel could not be sure she had written them, it disciplined her because of her other posts.
After the hearing a social media expert said teachers should set up separate sites to be friends with pupils.
Mrs Scarlett, who has now left the school, did not appear at the hearing.
Presenting officer Louise Price said the teacher portrayed herself as a "very different person" from the one she was at school and ex-pupils responded to this.
"She discussed being 100% naughty and liking to party hard," Ms Price said.
"She used Facebook to freely discuss her favourite pupils, she talks about the best site to buy sex toys, her sexual preferences and talks about alcohol with an 11-year-old."
Using the site, she told a former pupil: "You should pop up to see me or even better we can go out for a drink or clubbing, I'm a very different person outside school I like to party hard - life is for the living.
"I'm not a teacher on here. I'm just like anyone else, I drink, swear... but don't tell anyone."
Another comment read: "Ms Scarlett's back from the pub. Had a diet coke. If you believe that you will believe anything."
'Very addictive'
Head teacher Graham Phillips said he thought her comments were "inappropriate and improper".
He added: "When you become a teacher I think you agree to uphold a certain set of standards to behave in a certain way and act as a role model."
In a statement, Mrs Scarlett said she turned to the website after a relationship ended.
"I found it very addictive," she said. "I was consoling myself after breaking up with my partner and the daily visits to Facebook were a welcome distraction.
"As far as I was concerned I had a Facebook profile which was locked to the highest possible setting. I didn't realise everyone could see my comments."
The hearing in Cardiff was told Mrs Scarlett had 81 friends, including 32 former pupils, 12 of whom were aged between 11 and 17.
An official reprimand will remain on her records for two years and will have to be disclosed to future employers.
Disciplinary chair Gareth Jones said: "She is guilty of being naive about how Facebook works."
Speaking after the hearing, Haydn Blackey, from the University of Glamorgan, said it was common for people to lose perspective while using networking sites.
"People are less aware of who's able to see the site," he told the BBC Wales News website.
"They claim to being 'friends' with people, but how many of them actually are?"
Mr Blackey has been working with schools to inform teachers on how to offer children guidance on how to safeguard their privacy online.
"But sometimes it's the teachers themselves who need guidance," he said.
"I would recommend that, in terms of pupils, you set up a separate account."