New Caerleon train station and Abergavenny line improvements proposed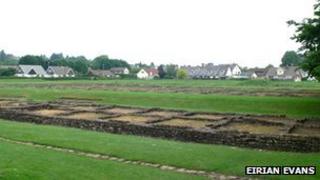 Proposals to build a train station at Caerleon and make improvements to stations between Newport and Abergavenny have been put forward.
The station would be 500m from Newport university's Caerleon campus and a short walk from the town's Roman sites.
Improvements at Abergavenny, Cwmbran and Pontypool include more parking, seating, better access and security.
The South East Wales Transport Alliance (Sewta) wants feedback from the public by 12 March.
The cost of the station and the improvements would be £14.1m, although the report authors Capita Symonds said those figures were based on 2010 prices and could change depending on the detail of design.
Alison Walker, transport planner at Capita Symonds who worked on the report, said a train station had first been proposed for Caerleon about seven years ago, but was not taken any further at the time.
However she said there had been a "significant rise" in rail use since that time.
Martin Buckle, Sewta's secretary and programme manager, said the proposals had come about after a broad study of the line between Newport and Abergavenny.
If the responses to the consultation are positive, Mr Buckle said the next stage would be a more detailed look at the proposal before forwarding it to the Welsh government and the rail industry to seek funding.
Work could start in the "medium term", from 2016 to 2020, he added.
Caerleon has a population of approximately 9,500. Around 650 students live on campus at the University of Wales, Newport, and over 4,000 study at courses based in Caerleon. In addition, 505 members of staff work there.
Chris O'Malley, pro-vice chancellor at the university, said of the proposal: "A fundamental consideration for us is making higher education available to people across the Gwent region.
"Having convenient public transport would be an important part of that."
Roman port
He added it was an aim of the university to attract 25% of its students from areas of deprivation such as Communities First areas, adding the proposed Ebbw Vale to Newport train line was something they were also concerned with.
According to National Museums Wales, around 70,000 people currently visit the National Roman Legion Museum in Caerleon each year.
The town has the remains of a Roman fort and amphitheatre, and last year a Roman port was discovered on the banks of the River Usk at the town's edge.
Museum manager Dai Price said: "As a national museum based in the centre of Caerleon, we serve the local residents as well as attract visitors from further afield.
"We are therefore interested in finding out more about the plans and people's responses to a development, which could potentially improve access to a historically important town."