Harlem Globetrotters basketball players visit pupils at Cardiff schools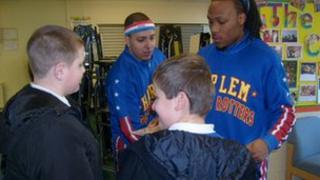 Basketball players from the Harlem Globetrotters have visited Cardiff to show off their slam dunking skills to school children.
Over 100 junior pupils from Fairwater primary, Peter Lea Primary and Lansdowne primary schools in Cardiff attended the event.
Organisers said it was an opportunity to show positive role models to the children who often idolise sportsmen.
The Globetrotters are an American exhibition basketball team.
"They are fantastic role models, and they had fabulous interactive tricks like ball spinning which they showed the children," said organiser Gareth Davies, who is in charge of PE at Cantonian High School in Cardiff.
"It's good to have outside bodies come into the school too, so that not everything comes from a teacher - it is a very good programme," he added.
Fairwater Primary school head teacher, Carolyn Mason, said the children had thoroughly enjoyed themselves, and had been impressed with the skills shown.
"The children enjoyed listening to the history of the team, saw their skills in action and participated in their tricks," she said.
The two Globetrotters on the visit, Flip Atkins and Benda Rodriguez from Illinois in the USA, also spoke about their CHEER message, which covers co-operation, healthy mind and body, effort, enthusiasm and responsibility.
"They encouraged the children to use this in their school work and life ambitions," Ms Mason added.
The Harlem Globetrotters were set up 85 years ago in Chicago when a 24-year-old businessman named Abe Saperstein formed a small basketball team called the Savoy Big Five.
In a few years the team had played over 1,000 games around the country and become the Harlem Globetrotters.
The full Globetrotters squad is appearing at Cardiff's Motorpoint Arena in March as part of their 2012 tour.