Nikitta Grender murder trial: Boyfriend says cousin Carl Whant was 'like a brother'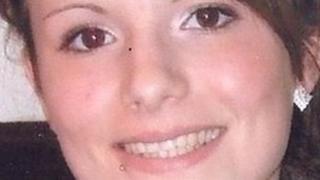 The boyfriend of a pregnant teenager who was stabbed to death described the man accused of murdering her as like a brother.
Ryan Mayes, 17, told Newport Crown Court that he and his cousin Carl Whant, 27, were "very close", but denied they shared women.
Nikitta Grender, 19, died two weeks before she was due to give birth to a girl she had already called Kelsey-May.
Mr Whant denies murder, rape, arson and child destruction. The trial continues.
Her body was found in her burnt-out flat in Broadmead Park, Lliswerry, Newport, in February last year.
A post-mortem examination revealed she had been stabbed in the neck and belly.
The jury heard on Friday that Mr Mayes had met Ms Grender when he was 13 and she was 14, but they had settled down when he was 16.
Their relationship had its ups and downs, he admitted.
He said they also had on-off periods, and during the off periods, they were involved with other people.
But he told the court they were "over the moon" to be having a baby and had moved in together.
Mr Mayes said he would regularly see Mr Whant, a former nightclub bouncer who worked with him as a double glazing salesman, and there was a bond between them.
The court heard that Ms Grender sometimes stopped Mr Whant from visiting her flat. She did not like what he did, Mr Mayes told the jury.
Taken cocaine
Mr Mayes described a house party he had attended with his second cousin Mr Whant, Bettws, near Newport, on the night before Ms Grender's death.
He said they had drunk vodka and taken cocaine at the party, and said he recalled when Mr Whant had told him he was going to his grandmother's home to get cigarettes.
He had asked whether he should go with him but Mr Whant had told him there was no need.
Mr Mayes said he feared Mr Whant would not come back, and had asked for his phone so that he could check.
He expected that Mr Whant would return to the party within 20 minutes, but 30 or 40 minutes later, he phoned Mr Whant's girlfriend Rachel Bird to ask whether he had gone there, but he hadn't.
Mr Mayes told the trial he suspected Mr Whant had gone to see another woman.
When Mr Whant eventually returned, he had no cigarettes on him and said he had failed to wake his grandmother up.
DNA match
The jury previously heard that Mr Whant admitted that DNA evidence showed that he had had sex with Miss Grender but he denied raping her.
DNA giving a positive match to her blood was also found on the shirt he wore on the night of the murder and on carpet in his car.
Mr Whant belatedly claimed he had consensual sex with Miss Grender around 19 hours before her murder.
The claim was made in a defence statement last December and had never been mentioned in 26 previous police interviews before then.
Mr Whant claimed sex took place at his cousin's flat and at his cousin's invitation after he had had sex with her moments before.
He also claimed that a similar incident had occurred 18 months earlier with a previous girlfriend of Mr Mayes.
But when pressed on the claims in court by the defence, Mr Mayes, who had been giving evidence for the prosecution, repeatedly denied this had happened.
In his cross examination, Christopher Kinch QC, defending, described how Mr Mayes and the pregnant teenager were in the flat's bedroom together on the night of the murder.
Mr Whant was also present waiting for his cousin to change so they could go out, he said.
Mr Kinch put it to Mr Mayes: "What happened there is that you and she had sexual intercourse that evening then you called Carl into the bedroom after five minutes or so, by which time you were, both of you, naked."
"No, that is not true," Mr Mayes replied.
"And you said to him that he could have sexual intercourse with her," Mr Kinch added.
"No," Mr Mayes responded again.
"You went off into the kitchen and he did have sexual intercourse with her," said Mr Kinch. "He then came back into the kitchen where you were ironing your jeans. Then you both went off and saw the rugby that evening and the rest of it."
The trial continues.