Prostate cancer patient Dave Powell urges rethink over NICE abiraterone rejection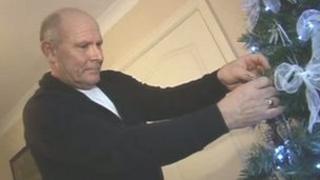 A man who has recovered from prostate cancer has criticised a health watchdog for rejecting a drug which can extend patients' lives more than three months.
NICE, which approves drugs for NHS use in Wales and England, says the benefits of abiraterone do not justify the cost.
Cancer charities have been angered by the decision, which is provisional.
Dave Powell from Barry, Vale of Glamorgan, said: "Who decides where the line is drawn? It's never somebody that is suffering from the disease."
Prostate cancer is the most common cancer to affect men in the UK.
The chief executive of the National Institute for Health and Clinical Excellence (NICE), Sir Andrew Dillon, said abiraterone was effective, and one of its key benefits was that it could be taken orally in the patient's own home.
"We are therefore disappointed not to be able to recommend it for use on the NHS, however it is an expensive drug," Sir Andrew added.
£3,000 for month
Abiraterone costs just under £3,000 for one month's supply but has been offered at a undisclosed discounted price to the NHS.
Mr Powell, who was told he was clear of prostate cancer just before Christmas, said it was unfair that people like him had to fight to get life-saving treatment.
He had to travel to Leeds to get brachytherapy treatment which was not available to him on the NHS in Wales, and had to persuade the authorities to fund it.
"You've got two wars on - you're fighting the disease and you're fighting the system to try and get treatment for the disease," he told BBC Radio Wales.
"It's something you can do without - it's bad enough being told you've got a life-threatening illness without having to fight for the treatment that should be readily available."
Mr Powell accepted that NHS budgets were limited but the authorities were putting patients in a difficult position.
"They're far too fond of trying to put people that are dying on a guilt trip because they want treatment for the illness they've got," he said.
'Bitter blow'
"I was told if they paid for my treatment, someone else suffering from something else would have to do without.
"If a drug like this can give somebody an extra quality of life, then it's got to be paid."
Cancer charities have criticised the health regulator's decision.
"Quite simply, abiraterone prolongs the life of men with incurable prostate cancer. The draft decision is a bitter blow to thousands of men and their families and must be overturned," said Owen Sharp, chief executive of The Prostate Cancer Charity.
NICE said it had already used the appropriate methods in its review, and concluded that the number men who would need the drug was too large to consider such agreements.
Until final guidelines are issued by the health regulator, decisions can continue to be made locally about the use of abiraterone.
Each year 37,000 men are diagnosed with prostate cancer, and more than 10,000 die from it.