Cardiff ice sports complex goes ahead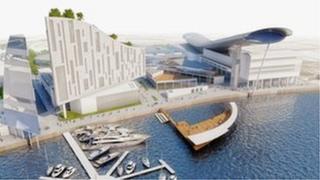 A new winter sports complex in Cardiff Bay's landmark International Sports Village is to finally go ahead.
Work on a 150m ski slope, a nursery slope, skating arenas plus shops, bars, restaurants, a hotel and new homes will start immediately.
The project will be developed by Helium Miracle 113, a subsidiary of Wigan-based Greenbank Partnerships.
Last year, the council broke off its deal with Planet Ice, which won the initial tender, in a row over funds.
The council then re-opened the tender process.
Cardiff Council leader Rodney Berman said the development would boost the city's international reputation.
The new ice arena is expected to be completed in time to accommodate all or most of the 2013/2014 ice hockey season.
The entire project should be finished within five years.
The sports village currently has a 50m pool, white water facility and temporary ice rink.
'Excellent reputation'
"We said we would deliver a new ice rink for the city of Cardiff and I am extremely pleased that these plans are moving forward," said councillor Berman.
"The new twin pad rink with spectator seating, bars and cafeterias will be the new home for the Cardiff Devils.
"It will also be another cornerstone of the International Sports Village, which is key within the council's plans to further enhance Cardiff's reputation as an international capital and a major tourist destination."
Paul Ragan, owner of the Cardiff Devils ice hockey team, said the project was "fabulous" news.
"This news will put Cardiff on the ice sports map throughout Europe," he said.
Jonathan Smith, development director at Helium Miracle 113, said he was looking forward to building on Cardiff's excellent tourism and cultural reputation.