South Wales firemen Jamie Windsor and John Haskell finish Atlantic row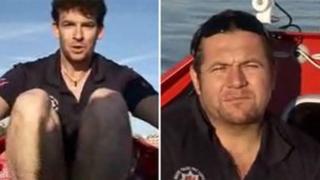 Two firefighters have rowed more than 2,500 miles across the Atlantic Ocean, 45 days after setting out.
Jamie Windsor and John Haskell, from Cardiff, reached Barbados on Friday after leaving the Canary Islands.
The pair said completing the journey was "very emotional" as they raised money for a number of charities.
Huw Jakeway, acting chief officer at the South Wales Fire and Rescue Service, said everyone was "incredibly proud" of them.
Before setting out the firefighters had estimated it could take them anywhere up to 70 days to complete.
Because the boat could not be allowed to drift at least one of them had be rowing at any given time.
After months of training in Cardiff Bay they set off on 5 December and arrived at the Caribbean Island at 07:21 GMT on Friday.
They had spent 45 days, 19 hours and 21 minutes at sea and travelled 2,615 nautical miles.
They wrote on Twitter: "family, friends, paradise, rum, and hot food so close! Going to rest now & row to port at around 7-8am barbados time (11-12pm) UK time). Unbelievable...
"Thanks for all your messages of support. We are going to enjoy sharing every minute with anyone that wants to listen, Very emotional here!"
Mr Jakeway said: "This was an incredible and gruelling challenge that has raised a lot of money for some very worth while charities - The Firefighters Charity, Breast Cancer Care, Help for Heroes and the WRVS.
"On behalf of the whole of SWFRS and South Wales Fire and Rescue Authority we would like to say how proud we are of John and Jamie and a big congratulations to them both on an outstanding achievement."