Peacocks administrators KPMG 'look for buyer' for clothing chain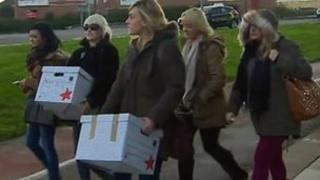 Administrators for Peacocks say they are looking for a buyer for the clothing retailer.
A total of 249 staff, almost half the head office workforce in Cardiff, were made redundant on Thursday.
It has also been announced that vouchers for the store are no longer being accepted to pay for goods.
KPMG confirmed it would retain the remaining 266 employees at the Cardiff office and continue to run Peacocks' stores as it seeks a buyer.
The administrators said they were using all their contacts in the retail industry to try to find a buyer for the firm, which employs 9,000.
Customer Emma Williams from Swansea said she was disappointed when she went to spend a gift voucher she received as a Christmas present in the city's store.
'Hard decisions'
"I basically can't use the gift voucher - it's null and void so I can't use it unfortunately," she said.
"They said to get in touch with the administrators and see if they can do anything about it."
Alistair Wardell, an insolvency expert from Grant Thornton, said Peacocks' administrators had to minimise the company's costs to maximise their appeal to potential buyers.
"They will be trying to keep these stores going for as long as possible to try and effect a going concern sale which will eventually, hopefully, maximise a return to creditors, [and] keep as many jobs as they can," he said.
"So that is why they are making these hard decisions now."
Patrick Woodall, chief executive of the retail consultancy Pragma, told BBC Wales he was "reasonably confident" a buyer for the company would be found.
"Peacocks is fundamentally an attractive and profitable business and, provided the financing structure is right, I firmly believe it's got a future on the high street," he said.
"I think there will be a lot of interest to the administrators for this business."
On Thursday, Chris Laverty, joint administrator and restructuring partner at KPMG, said: "It is with regret we have made 249 redundancies at Peacocks' head office in Cardiff, which follow a commercial review of the staffing levels of the business.
"No stores have been closed and [they] will continue to operate as normal whilst we actively search for a buyer for the business."
At Westminster, MPs challenged ministers to stop the state-owned Royal Bank of Scotland (RBS) from withdrawing support for Peacocks.
New investors
Liberal Democrat MP Bob Russell said the UK government had the power to step in, given that RBS is 83% owned by the taxpayer.
In a question to Commons Leader Sir George Young, Mr Russell said: "Is it not the role of government, when it owns the bank, to intervene and can we have a debate?"
Sir George said: "I would be cautious about the government intervening and trying to micro-manage lending decisions which I think are best taken by the banks."
RBS has said it has been supportive of the company but "new investors willing to inject sufficient capital could not be found".