Chepstow firm Mabey Bridge's 45 wind turbine deal jobs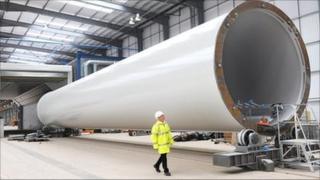 A south Wales manufacturer has won a multi-million pound order to build 35 wind turbine towers for UK sites.
Mabey Bridge has taken on 45 people and transferred 50 more to its factory in Chepstow, Monmouthshire, after the deal with German company Nordex.
Fourteen towers will be sited at the Pant-y-Wal wind farm in Rhondda. The rest will go to Scotland.
The firm described the deal as "a real boost" for its staff after a challenging year.
Mabey Bridge created 240 jobs when it opened its £38m factory in Chepstow in May last year. The facility is capable of producing up to 300 towers a year.
The company said production of the 120-tonne towers, which will stand between 213ft and 230ft (65m - 70m) high, will begin in mid-February with the factory working around the clock.
Some 170 staff would be working on the project, the firm said.
The company said the turbine towers, destined for west of Gilfach Goch in the Rhondda valleys in June, would be the first made by a Welsh company to be installed in Wales.
The remaining 21 towers will stand at the Baillie wind farm near Thurso on the north coast of Scotland also in June.
The two sets of turbines will have the capacity to power the equivalent of 60,000 homes, Mabey Bridge said.
UK director Alex Smale told BBC Radio Wales: "To put this into perspective last year the UK wind market was less than 250 towers so this is a really significant order.
'Expertise and skills'
"We are currently recruiting about 45 additional roes for the factory so absolutely more jobs in Wales.
"All of these towers will be made in Wales. The towers you see around the country have historically been made in northern Europe - not even in the UK at all."
Welsh Secretary Cheryl Gillan welcomed the announcement.
"This is not only excellent news for the economy in Wales, but for the UK's renewables and manufacturing industries as a whole," she said.
"The awarding of this contract is a clear demonstration of the confidence European countries continue to have in the talent, expertise and skills of our workers here in Wales."