Clothing retailer Peacocks enters administration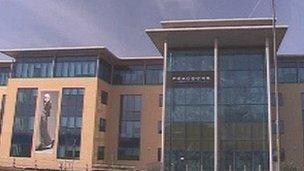 Clothing retailer Peacocks has gone into administration, it has been confirmed.
Staff at the company's Cardiff HQ were told of the move by chief executive Richard Kirk on Wednesday afternoon.
The firm, which has tried unsuccessfully to restructure its £240m debts, employs more than 400 in Cardiff and over 9,000 others across the UK.
Mr Kirk was given a round of applause by staff after a speech saying he had done all he could to save the company.
In a statement he thanked the firm's staff and said: "Peacocks is a brand with great heritage, and it is with deep sadness that we have been left with no other option but to today place the business into administration.
"We have worked tirelessly over the past year to agree a new financial structure to take the business forward in the current, tough retail environment, including seeking new investment for the business.
"This is a hugely sad development for all of our stakeholders, especially our employees who have shown total commitment to the business over an uncertain and difficult period."
The Peacocks business operates around 611 stores and 49 concessions across Wales, Northern Ireland, Scotland, and England and employs approximately 9,600.
Staff told the BBC they expect to find out on Thursday who may be losing their jobs. It is understood the stores will stay open and the slimmed-down company will be sold on.
KPMG confirmed that the joint administrators - Richard Fleming, Chris Laverty, Ed Boyle and Joff Pope - would run the company while actively seeking a buyer for it as a going concern.
All stores would continue to operate as usual, said KPMG in a statement. No stores had been closed and there had been no immediate redundancies.
The Bonmarché business, which employs approximately 3,800 staff and is also owned by The Peacock Group plc, has not entered administration, said the statement.
However, the business filed a notice of intention to appoint administrators on Monday. The notice allows 10 working days before the appointment of administrators. A buyer is being sought for the business.
Mr Laverty, joint administrator and restructuring partner at KPMG, said: "Like many retailers Peacocks has suffered from tough economic conditions, which have seen its customers reduce their spending on the high street.
"This factor, combined with a surplus of stores and high overheads, led to the business becoming financially unviable in its current form."
Mr Fleming added: "We are actively seeking a buyer for the 611 stores and 49 concessions and encourage interested parties to get in touch."
A spokesman for Barclays said: "This is not the end for Peacocks, there is a viable business here and our support continues".
UK Employment Minister Chris Grayling told BBC Radio Wales that he hoped Peacocks could be sold as a "going concern".
He said it was "disappointing news" and he felt "desperately" for those involved.
Welsh Secretary Cheryl Gillan described the move as "a devastating blow" for the companies and employees involved and said she was "deeply concerned" about the wider impact on the local areas involved.
"This is a sobering reminder of the sheer urgency and scale of the challenge faced by both UK and Welsh governments," said Mrs Gillan.
She added that she was "committed to this challenge".
"More than ever, we need to work together to focus on retaining jobs whenever possible and attracting new business opportunities to Wales," she said.
On Tuesday, Welsh Labour MPs called on UK Business Secretary Vince Cable to take action to help save the company.
They warned in a letter that the Cardiff-based firm may be forced into administration because banks are "refusing to provide further working capital".
Related Internet Links
The BBC is not responsible for the content of external sites.