Cardiff Airport: UK Border Agency seizes hippo foot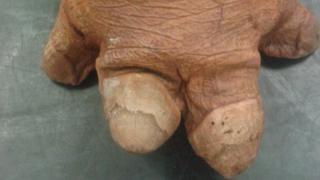 The foot of a hippopotamus and 10 carved ivory ornaments have been seized from a passenger at Cardiff Airport, says the UK Border Agency.
Officers searched the bags of a 58-year-old Cardiff woman arriving last Saturday from Zambia via Amsterdam.
When questioned the woman said she had cleared a relative's house in Zambia and was unaware that she needed a licence to bring the items into the UK.
The agency said travellers should be aware of the rules on banned items.
The agency said the importation of ivory and other items was restricted under the Convention in International Trade in Endangered Species (CITES).
They can only be brought into the UK if the correct permits had been applied for and issued, said a spokesperson.
The items were seized by the agency and the woman was allowed to leave the airport after questioning.
"Just because items like this are legal in other countries, it doesn't mean they can be brought into the UK," said Alex Lawther, UK Border Agency assistant director in Wales.
"Travellers should be aware of the rules on restricted or banned items.
"You are not allowed to bring internationally protected endangered animals and plants, including products made from them, into the country unless you have a CITES permit."
Mr Lawther said UK Border Agency officers at Cardiff Airport took their role in enforcing international agreements "very seriously".
"Anyone tempted to bring items of this nature through the airport should think again," said Mr Lawther.
The agency said that around 5,000 species of animals and 29,000 species of plants were protected by CITES.
The seizure at Cardiff Airport came just weeks after UK Border Agency officers at London's Heathrow Airport seized a live African cheetah.
The big cat landed at Heathrow on 22 December last year and was due to transit on to Russia.
Checks revealed that the animal was not micro-chipped and therefore not identifiable and it was seized under CITES regulations.
It will now be re-homed at a UK wildlife park.