Lloyds Bank to cut 200 jobs in Cardiff and Newport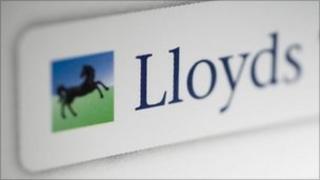 Lloyds Bank says it is cutting 200 jobs at two of its offices in south Wales.
The posts will go in Cardiff and Newport as part of a restructuring programme that will see 700 job cuts across the UK.
The part-nationalised bank announced last year it was closing its call centre in Bridgend that employed 700.
The group said it would use natural turnover and redeploy people where possible and compulsory redundancies would always be a "last resort".
It said all affected employees were briefed by their line managers on Wednesday while the group's recognised unions were consulted before the announcement.
Figures released earlier in the day showed the number of jobless people in Wales had fallen slightly by 1,000, taking the unemployment rate to 8.9%.
The number of unemployed between September and November was 130,000, which was 7,000 higher than the same period in 2010.
The taxpayer owns 40.2% of Lloyds, whose underlying profits fell 21% to £644m in the three months to 30 September.