Cardiff paramedic Philip Hillier 'slapped woman's face'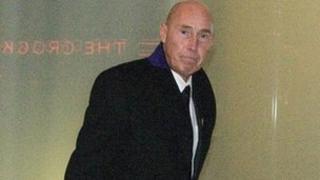 A paramedic slapped a patient across the face and spoke aggressively to her, a disciplinary hearing in Cardiff has been told.
Philip Hillier, 53, is accused of an "unprovoked assault" on the woman, 20, during a call out in the city.
She was apparently unconscious and had back injuries, but he believed she was faking them, the hearing was told.
Mr Hillier, who has left the Welsh Ambulance Service NHS Trust after a 20-year career, denies misconduct.
Presenting officer Sophie Lister told the tribunal the paramedic was called out to an unnamed woman who had fallen and injured her back in Cardiff city centre.
"Another paramedic was trying to sit her up and Mr Hillier kept pinching her legs and under her arms," she said.
"She said Mr Hillier was kneeling on the floor and said to her 'Why are you being such a silly bitch?' "
Mr Hillier also accused the woman of wasting the ambulance crew's time.
The hearing was told the woman then swore at Mr Hillier, and it is claimed he then slapped her across the face.
The woman reported the alleged assault to police, but Mr Hillier was never charged.
'Unconvincing and uncooperative'
Fellow paramedic John Harries told the hearing: "She was feigning being unconscious - she was unconvincing and uncooperative.
"It was calm and relaxed up to the point that Philip Hillier told her to stop being silly.
"He brought his hand back and struck the patient with the full flat of his hand.
"It was an unprovoked assault on the patient."
Mr Hillier was dismissed from his job but the Conduct and Competence Committee of the Health Professionals' Council heard he later won an appeal and was offered another role but chose not to take it.
Mr Hillier denies misconduct by slapping the woman or talking to her aggressively.
The hearing continues.