L/Cpl Lee Foley: Army tribute after Merthyr taxi death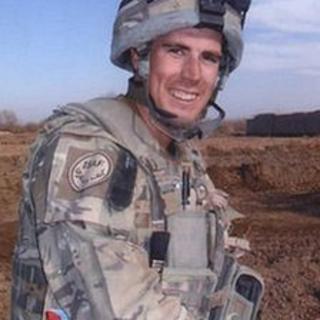 An "outstanding" soldier who died after a collision with a taxi on New Year's Eve has been buried with full military honours.
Lee Foley, 26, from Merthyr Tydfil, served in Afghanistan as a lance corporal in the Royal Engineers.
His commanding officer Lt Col Jason Kerr said L/Cpl Foley had had "an incredibly bright future" ahead of him.
His family described him as a caring person, a practical joker and a keen sportsman as a boy.
L/Cpl Foley died in hospital following the incident at 22:10 GMT on 31 December at the junction of the eastern by-pass and Church Street.
His funeral was held at St Tydfil's Parish Church, Merthyr Tydfil, followed by an interment at Capelfach Cemetery, Cefn Coed.
At the service, officiated over by Padre Gavin Smith of 22 Engineer Regiment, a tribute written by his fiancee Amanda was read aloud to the 360 people in the church and relayed to a crowd gathered outside.
A statement from L/Cpl Foley's family, on the Order of Service, read: "Paul, Sian and all the family would like to thank you for your attendance and the kind messages of sympathy extended to them in their bereavement."
They requested no flowers, but asked mourners to make a donation to the Armed Forces charity Help For Heroes.
'Lasting smile'
Paying tribute to him before the service, Lt Col Kerr described L/Cpl Lee Foley as a key part of 22 Engineer Regiment for three years and "a pleasure to have in my charge".
"He was a true soldier in every respect," said Lt Col Kerr.
"He understood the fundamentals of being a soldier and always demonstrated the highest standards of discipline, turnout, professionalism and courtesy, both in-barracks at home in the UK and, importantly, in his dealings with the Afghan people when deployed on combat operations.
"Despite being immensely talented with an incredibly bright future ahead, he had a humility that endeared him to all who worked with him."
Lt Col Kerr said it was L/Cpl Foley's "lasting smile, whatever the situation" that everyone remembered.
He added: "The regiment has lost an outstanding soldier, but our thoughts and prayers at this difficult time are with his parents, Paul and Sian, his sister Lyndsey, his fiancée Amanda and his wider family and friends who have suffered the greatest loss.
"We will remember him fondly."