Shelter welcomes £33m Cardiff housing plan but wants empty homes tackled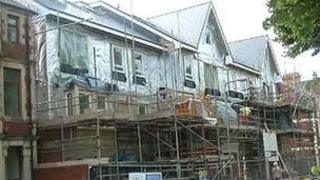 A housing charity has welcomed plans by Cardiff council to build up to 1,000 new homes but also called for more empty houses to be brought back into use.
About 30 brownfield sites are under consideration for the council's £33m social housing plan.
Shelter Cymru also urged it to continue targeting long-term empty homes.
The council wants to get 150 private empty homes put back into use, while estimating hundreds more lie empty.
The latest plans involve building 1,000 homes across the city: 40% of these would be for council housing, and 60% for private homes sold by a developer working with the council.
Around 12,000 people are waiting for social housing in the city, while private developments have been cut back in recent years.
The council hopes the project will support around 250 jobs.
John Puzey, director of Shelter Cymru, said any work to address the "drastic shortage" of affordable housing in Wales was welcome, but it was not just a matter of the number of houses built.
"It's just as important to develop communities where people want to live that will be sustainable in the long term, so it's very encouraging that part of this scheme will focus on regenerating existing housing estates," he told BBC Wales' news website.
"In the meantime, we would also urge Cardiff council to continue working to bring long-term empty properties back into use.
"While the proposed new homes are welcome, empty homes can be brought back into use relatively quickly and cheaply to help meet local housing need."
Vacant properties
Cardiff council has its own designated officer to look at the issue of empty homes, concentrating on trying to bring 150 back into use, where the owners are inactive.
The council estimates there are 4,000 empty homes in the city, 1,700 of which have been empty for six months of more.
Housing officials say it is important to note that a number of these are owned by businesses and counted as second homes, and the authority is also starting to look at empty commercial properties.
Judith Woodman, deputy leader of Cardiff Council, said: "Cardiff is a lead authority in Wales and the UK in dealing with and bringing vacant properties back into use.
"Unlike the majority of other local authorities, Cardiff has an empty property officer along with an empty property policy, and dedicates other resources into this very important issue."
She said the council was looking at new and innovative ways of bringing empty properties back into use.
"Cardiff, as an authority, fully recognises the impact empty properties have on an area and the importance attached to securing their re-use," she said.
"It is because of this that we have pressed the Welsh government to speed up the compulsory purchase process. Furthermore, by using existing stock, we can to reduce the pressure on greenfield development."
Poorer areas
On the new social housing plan, she said as well as delivering a number of new council houses, it would help tackle the lack of social rented housing and difficulties facing first-time buyers.
However, Labour group secretary Councillor Ralph Cook, chair of the communities and adult services scrutiny committee, said the council was "hiding all the real detail" and warned against reinforcing social divisions between richer and poorer areas.
"The scheme will involve the disposal of council-owned land [across Cardiff]. The private developers are going to argue that the houses they build and sell will be in the best areas, and the areas that have most social housing, the more deprived, will get more.
"In my area, Ely, we share 50% social housing with 50% privately owned. The government recommendations are 30% social housing and 70% private.
"I'm much more interested in the demographic," he said.
Council houses
Mr Cook also claimed not all the land under consideration was strictly brownfield sites.
"There is an area of council-owned land in Trowbridge where I live which has not been farmed for 50 years. It's covered in wild growth. I walk over there a lot and from a biodiversity point of view it's quite interesting," he said.
"It's not brownfield, it's greenfield."
The project comes under the umbrella of the Cardiff Partnership Scheme. In the first phase, more than 100 council houses were built.
The second phase will run from 2013 to 2017, with £5m invested in the first year, followed by successive investments of £8m, and £10m each for the final two years.
The council hopes to begin the tendering process this summer.