Microchip call after Kirsten Barrett's guide dog mauled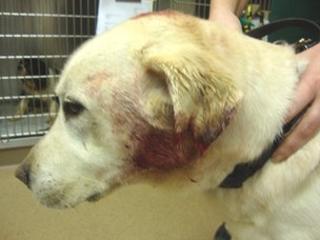 A call has been made for compulsory microchipping of all dogs after an attack on a guide dog.
Kirsten Barrett and her labrador Norman were attacked outside their home in Corntown, Bridgend, by a rottweiler and a Staffordshire bull terrier cross.
Police believe that the dogs had been dumped by their owners.
The Guide Dogs for the Blind Association (GDBA) said microchipping was affordable and would change the culture of ownership.
Norman lost part of an ear and blood in the attack and needed emergency surgery.
Neither of the animals was microchipped, making it unlikely the owners will be found.
The attack on Norman and Mrs Barrett, who is completely blind, was witnessed by her seven-year-old daughter as they left the house to go to the school bus stop.
Mrs Barrett said all three had been left traumatised.
"Apparently the dogs had been hanging around our street since about ten o'clock the previous night," she told BBC Wales.
"The rottweiler just jumped on Norman, and started biting and shaking him.
"I told my daughter to carry on walking away, so she didn't get hurt, while I tried to get in between them. But it was too strong, and I got bitten on the hand and leg as well.
"Eventually I managed to get Norman into a neighbour's house, but even then this dog was flying at the glass trying to get at him."
Mrs Barrett praised her neighbours' efforts to help.
"One chased the dogs away with a stick, and another rushed Norman and me to the vet," she added.
"It could have been much worse, but even so I'm angry and frightened about the sort of person who'd dump dogs like this on the street.
"My daughter's too terrified to talk about it."
Across the UK attacks on guide dogs average seven per month, with six incidents reported in Wales in the 18 months to December 2011.
'Back-street breeders'
Each year four guide dogs are so badly injured that they either have to be put down or are immediately retired.
Of those who make a full physical recovery, many are too traumatised ever to work again.
James White, the GDBA's head of campaigns, said: "We've met opposition to our call for microchipping, from people who say it's too costly and too bureaucratic, but a microchip costs around £10-15.
"Even if you add on a small amount per dog for the administration of a national database, then you're still talking about something which is eminently affordable."
"Quite frankly if you can't afford a microchip, then you can't afford to own a dog responsibly, and shouldn't have it in the first place.
"Responsible ownership is at the heart of this. [Microchipping] won't catch everyone, but it will change the culture of dog ownership, and stamp out the back-street breeders.
"We'd also call on police forces to take these attacks more seriously. Of 147 attacks between June 2010 and last December, I'm not aware of a single prosecution of a dog owner."
The UK government has launched a consultation exercise on compulsory microchipping, but have given no firm commitment to making it law in England.
However a Welsh government spokesman said it was closer to bringing a bill before the Welsh assembly, with consultation early in 2012.