Llandaff Insole Court lottery restoration plans on show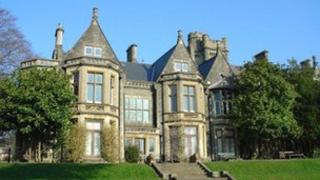 Campaigners hoping to save a Victorian mansion in Cardiff with a possible £1.9m lottery grant are to explain the plans at a two-day open air event.
Insole Court in Llandaff has been given £165,900 by the Heritage Lottery Fund (HLF) to prepare restoration plans.
If the plans are approved, the HLF will award the grant as part of nearly £4m needed to restore the family home.
People can drop in at the house from 10:00-16:00 GMT on Saturday and Sunday to learn what volunteers have planned.
Insole Court was built in 1856 by James Harvey Insole, who owned Cymmer Colliery in Rhondda.
Campaigners say it is one of few surviving family homes related to Cardiff's Victorian coal era and has many original features to be preserved.
Visitors will be able to tour the grounds and talk to Insole Court trustees about the proposals.
A volunteer said: "The downstairs will be restored to its Victorian look. The two top floors are derelict, they will be restored.
"It hasn't been touched. It still has a lot of the original features. It's been a lot of hard work just getting it to this stage."
If approved, the restoration could be given the go-ahead by the end of 2012, with more bids for lottery cash to follow.
It is hoped the work will be completed by 2014. It will include office accommodation, workshops for small businesses, a cafe, centre for older people and a nursery.
'New era'
Future plans also include heritage tours of the house and tower.
But the chairman of Insole Court Trust, Sir Norman Lloyd-Edwards, said campaigners faced the challenge of restoring the manor house and outlying buildings while ensuring the site remained a focus of community activities.
He said: "It can't be just a museum for people to visit.
"There has to be an education aspect, linking the story of the Insole family with their mining in the Rhondda and coal exporting in Cardiff.
"We also have to make certain we can have events going on. We have in mind workshops for unemployed people and a training centre for people with learning disabilities.
"We also have to get planning consent and approval from [heritage body] Cadw - it can be a balancing act."
The house was sold under a compulsory purchase order by Cardiff council in 1938 to enable the construction of Western Avenue.
Earlier this year, the management of the building and grounds was transferred to the trust.
Insole Court is now a centre for community activities, run by Cardiff council.
Councillor Nigel Howells, executive member for sport, leisure and culture, said: "Cardiff council continues to work with the Insole Court Trust and other associated parties to complete this process, which in time we hope will lead to an exciting new era for this important Cardiff landmark."