Law change spells end for Abergavenny cattle market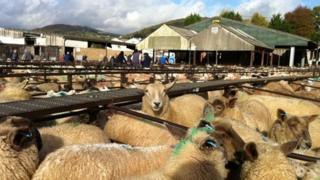 A Victorian law is being repealed paving the way for a supermarket and library on the site of an historic cattle market.
The 1871 statute requires Monmouthshire council to provide a market in Abergavenny.
Campaigners fighting to keep the mart at its current site had hoped the law would stop the development.
The Welsh government has agreed to a request from the council to repeal the 150-year-old law
Planning permission has already been granted for a Morrisons supermarket and library on the site.
Monmouthshire County Council, which owns the land, says the development will help regenerate the town while a modern replacement livestock market will be built 10 miles away near Raglan.
The Keep Abergavenny Livestock Market campaign - which says the mart draws farmers and tourists into the town - had hoped local government minister Carl Sargeant would refuse to repeal the Abergavenny Improvement Acts of 1854 to 1871.
Mr Sargeant said although many people responding to the consultation had opposed repealing the acts, keeping them would not have kept the mart open.
"They do not require the market to exist on its current site, nor do they prohibit development of that site," he said.
"Equally, if I were to repeal the acts the market would not have to close.
"I cannot appear to endorse or overturn a decision which was properly made by the council's planning committee - however strongly others support or disagree with it.
"It must be for the council to justify the decisions that it makes on this issue or any other."
Redevelopment of the site has been proposed for several years but there have been delays as previous schemes have run into problems.