Hepatitis C drug set to give Cardiff University financial boost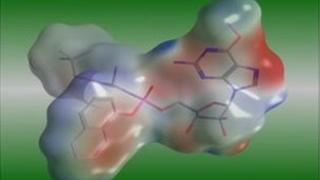 A university behind a treatment for hepatitis C could reap "substantial" financial benefits after the drug was acquired by a top US firm.
The oral medication INX-189 was first prepared at Cardiff University's Welsh School of Pharmacy in 2008.
Now in the second stage of clinical trials, the drug changed hands in Bristol-Myers Squibb's £1.6bn takeover of US biotech firm Inhibitex.
Entrepreneur Sir Chris Evans hailed "a fantastic piece of commercialisation".
The drug's creator, Prof Chris McGuigan, said it could offer hope for those around the world suffering from the disease.
According to the World Health Organisation, around 170m people worldwide have hepatitis C.
More than 350,000 die every year from related illnesses.
The current treatment involves two drugs - ribavirin and interferon, which has to be given as an injection.
'Highly significant'
Side effects are often severe and lead to patients failing to complete the treatment.
Prof McGuigan said INX-189 had shown strong anti-viral activity and a high barrier to resistance.
He said pharmaceutical giant Bristol-Myers Squibb was the ideal partner to get the drug clinically approved quickly.
"This purchase is highly significant for Cardiff University, which stands to benefit financially at each stage of the drug's progress," said Prof McGuigan.
"More importantly, it will add impetus to our efforts to complete the trials of this drug, potentially offering hope to hundreds of thousands of sufferers from this terrible disease around the world."
Sir Chris Evans, chairman of the Welsh government's life sciences sector panel, said he was delighted at the news, which he said demonstrated the "enormous potential value" of the sector.
He described it as "a remarkable achievement for Professor Chris McGuigan and a fantastic piece of commercialisation in anyone's book."
'Substantial re-investment'
Cardiff University said the purchase deal reflected "great confidence" in the potential of INX-189 to relieve suffering.
On the financial benefits, a spokesperson said: "As is standard with many such agreements in the pharmaceutical sector, the deal has been structured to allow milestone payments to the university as and when INX-189 passes each trial stage in its clinical development.
"The anticipated completion date for this process is 2015 or 2016.
"The deal also includes further royalty payments should the drug reach market."
Dr Andrea Brancale, a senior lecturer at Cardiff University, admitted the amount of money talked about had been a surprise, but added: "We really had confidence already on this drug."
He said details of the deal were confidential, but he expected a return for the university at each stage of the trial.
He said there were three phases of clinical trials, adding that "we are almost reaching the end of this process".
The spokesperson said details remained confidential but the agreement offered the prospect of "substantial re-investment" in Cardiff University's education and research.