Cervical smear test road show targets Welsh campuses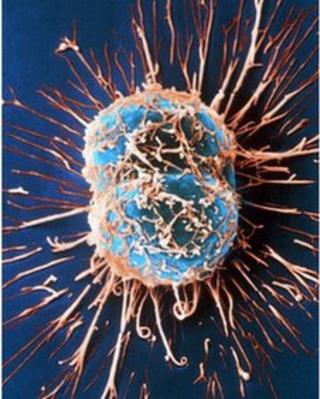 Students are being targeted for smear tests as part of a three-week roadshow to promote cervical cancer screening.
Cervical Screening Wales and the cancer charity Tenovus are holding events at two Welsh universities and one college.
This is the first time the two bodies have worked together on this project.
One specialist said young people found it easier to talk about breast cancer because they were more likely to know someone with the disease, and were embarrassed about cervical screening.
Cervical cancer is the second most common cause of cancer in women under the age of 35. Screening rates for women in Wales in the target age group is 76.4%.
Screening engagement specialist Alison Clement said the venues at Merthyr Tydfil College, Aberystwyth University and Glyndwr University in Wrexham had been chosen because the people on site had the right age profile.
"We start screening at 20 and go up to 64 so we have got the staff and students. It's a good variety of ages," she told BBC News Online.
"The younger ones are the ones who don't tend to come forward for cervical screening.
"They think they're going to live forever. It's very rare that anyone actually develops full-blown cervical cancer that I think it's not in their consciousness."
Screening rates rose across the UK following the high profile case of reality TV star Jade Goody, who was diagnosed with the disease in 2008 and died in March 2009.
However later figures showed the effect appeared to be temporary.
Ms Clement said: "People's memories are short. Younger people are not going to know who she was.
"Let's face it, it's not an attractive subject, is it? In that respect, it's harder to market it and get some promotion for it.
"People are more likely to talk about breast cancer but not cervical cancer. It's that 'down there' thing and some teenage girls say, 'oh, that's disgusting, I'm not having that done'."
She added another factor in screening rates was that although women were invited to come for a test, it was left to their initiative to make the appointment, unlike breast screening where the patient is sent a time and date.
Monday's roadshow at Merthyr Tydfil College aims to promote European Cervical Cancer Prevention Week (ECCP), an annual event which encourages women to take up the offer of screening in their own country.
Screening for cervical cancer is offered every three years to women in Wales aged between the ages of 20 and 64.
A cervical smear aims to prevent cancer from developing by detecting cell changes before they turn into cancer. It can sometimes detect cancer but is not a test for cancer.
According to Cervical Screening Wales, which is managed by Velindre NHS Trust, about one in 10 results show cell changes and some of the changes may turn into cancer if left untreated.
Bryan Rose, all-Wales programme manager for Cervical Screening Wales, said: "Regular smear tests are the most effective way of detecting abnormal, pre-cancerous cells, before they possibly turn into cancer.
"The test doesn't just catch cancer early, but can actually prevent cancer from developing."
As well as students and staff, members of the public are also invited to attend the roadshows.