Mitt Romney's wife Ann serves Welsh cakes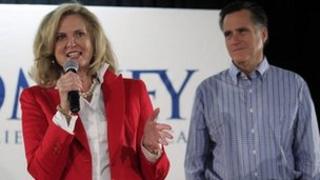 The wife of US Republican presidential candidate Mitt Romney has been treating campaigners and journalists to Welsh cakes.
Ann Romney, whose father was a Welsh immigrant, has been serving the cakes on her husband's campaign bus.
Mr Romney is seen as the front runner in the race to secure his party's nomination after winning the Iowa caucuses on Tuesday.
Mrs Romney's father Edward Davies was born in Maesteg.
Wolf Blitzer, a journalist for the American news network CNN, recently tweeted: "When I was on @MittRomney bus yesterday in Iowa Ann Romney gave me a small homemade Welsh cake. Delicious."
In an article in the Boston Globe Mrs Romney said her father was born into a coal mining family.
"I feel like I'm only a step away from there - I feel tied to my Welsh ancestry."
She once posted a recipe for Welsh cakes on her husband's website.
Mr Romney, a former Massachusetts Governor, won Iowa's caucuses by just eight votes ahead of former Pennsylvania Senator Rick Santorum.