Wikipedia project to cover life in Monmouth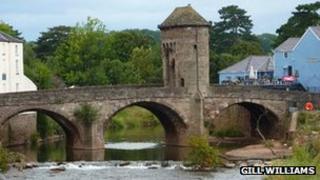 Wikipedia is launching a new project aimed at covering life in Monmouth.
The online encyclopaedia says Monmouthpedia will be its first venture based on a town.
It wants people to contribute articles and photographs on interesting and notable places, people, artefacts and other aspects of Monmouth life.
New smart phone technology will allow users to scan barcodes at points of interest and have information about the landmark sent to their mobile.
Roger Bamkin, of Wikimedia UK, said: "You click on it [the code] with your phone and your phone senses that particular pattern and takes you to a website, in this case Wikipedia.
"We have a particularly unusual type of code in that it will take you to the language of your choice.
"If you are a French person and you click on it, it will take you to an article in French, and if you are German, it will take you to an article in German."
He said the aim was to have 1,000 of the codes around Monmouth by April.
One of the main reasons the town was chosen for the project was because of its history.
It appears in the Domesday Book in 1086, and the Council for British Archaeology has designated Monmouth as the seventh best town in Britain.
John Cummings, project leader in Monmouth, came up with the idea after he had attended a talk by Wikipedia about a similar scheme at Derby Museum.
Writing articles
"I talked to them and said 'that's a good idea, you could do it for a whole town' and they said 'no, you could do it for a whole town!'
"There's a lot of great history here and we've got three museums, which I suppose is unusual for such a small town."
Wikipedia is keen for local people to become involved by suggesting and writing articles, taking and donating photographs, and recommending good reference material.
"We're working with some local groups at the moment but anybody can be involved in it, so if you're interested in history at all, then please get involved," said Mr Cummings.