Franky is guide dog to blind fellow pug Elly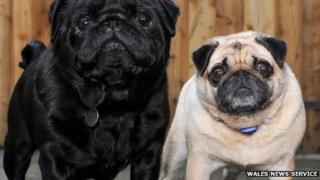 A new home is wanted for two dogs who have become inseparable, as one acts as the eyes of his blind fellow pug.
Franky has taken on the role of guide dog for Elly, who sniffs the air to locate him and then nuzzles up to follow him wherever he goes.
The pair, who are both four, have been taken in by Newport RSPCA officials, who say they must be homed together.
"He looks out for her and provides support while guiding her on walks or to food or water," said Elaine Buchan.
The pugs will need operations before they are able to leave for any new home which offers to take them both in.
"There's absolutely no option of homing them separately as it would break their hearts and also be wholly impractical," said Mrs Buchan, the Newport RSPCA manager.
"They're great little dogs and I'm already jealous of the lucky owner who will get to care for such a loving pair."
Mrs Buchan said Franky, a boisterous and playful dog, looked out for Elly, who is affectionate and cuddly.