Ian Mytton jailed for Wembley manslaughter of Wales fan Michael Dye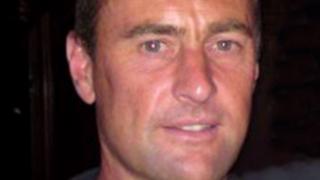 A man has been jailed for three years for the manslaughter of Wales football fan Michael Dye before September's England-Wales Euro 2012 qualifier.
Cardiff City fan Mr Dye, 44, suffered a fractured skull after a single "sickening" punch and died in hospital after being found outside Wembley.
England fan Ian Mytton, of Redditch, Worcestershire, pleaded guilty at the Old Bailey via video link last month.
Mytton, 41, also received a six-year ban from football.
He will serve half of his sentence before being released on licence.
In a statement read in court, the victim's wife Nathalie Dye, who wiped tears from her eyes throughout the sentencing, said: "The man who caused Mike's death might as well have killed me that night.
"Part of me died alongside Mike.
"The only thing to look forward to is being with my darling husband once again."
She added: "Since I lost my wonderful husband my world has been crushed. It has been a living hell.
"I am unable to eat for fear of having a moment of enjoyment without my husband."
Prosecutor Philip Bennetts QC said Mrs Dye had shed a lot of weight and now weighs seven stone.
"I suffer from anxiety attacks and I have had to move house," she said.
Mrs Dye said her husband "was the ideal hero and role model" to his children.
"Even the dog still sleeps in the last jumper Mike was wearing," she added.
Mr Dye's sister, Katherine Dye, said: "I can never forget the day me and my parents were taken to the mortuary to identify his body.
"It is the last thing I see at night."
Mr Dye, a father-of-three, was found injured outside Wembley's Gate C, before the match, which England won 1-0 on 6 September.
CCTV footage showed Mytton approaching Mr Dye on a concourse outside the stadium and punching him once at 19:20 BST - about 25 minutes before kick-off - and walking away.
Prosecutor Mr Bennetts said one eyewitness described the punch as "sickening".
"It was something you would see in a boxing ring," said the witness.
"As a football fan I have seen many scuffles but the force of that punch was such that it was something I will never forget."
'Heartbreaking'
Mr Dye was taken to Northwick Park Hospital in north-west London with blunt force trauma to the back of his head, but died a short time later.
Mytton, who had drunk five pints of lager on the day and was holding a can of cider before he punched Mr Dye, had admitted manslaughter last month and wept in court as he was sentenced.
Judge Anthony Morris said: "As you said in your letter to me - 'the two people, Michael Dye and myself were just going to a football match, for one of us to lose his life and for one of us to end up in prison is heartbreaking' - and I would agree with that."
The judge added: "It is a tragedy, most of all for the family and friends of Michael Dye.
"They have lost a husband, a brother, a father and a friend."
He described the attack as unprovoked and the force of the blow as considerable, adding that Mr Dye was "pole-axed" from the force of the punch and fell backwards without trying to stop himself, hitting his head on the ground and suffering massive brain damage.
Mr Dye - widely known as Mikey - from Ely, Cardiff, worked as a stonemason for the city council.
He was a long-time Bluebirds fan who wrote about the club on the Cardiff City Forum website.