New year hope for Cwmbran regeneration at Meritor site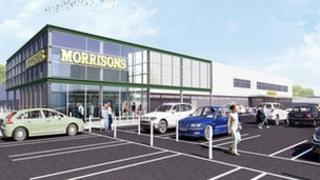 Work could start early in the new year on what has been called the biggest regeneration project of its kind in Cwmbran's history.
The redevelopment is expected to create at total of 770 new jobs, and also secure 400 existing jobs at the vehicle brakes company Meritor.
The plans include a Morrisons store, hotel, pub and new office space.
Torfaen council's planning chief officer Duncan Smith said all parties were "working towards a January start".
"We would say this is extremely important at a time of economic depression," he said.
"To actually have a scheme that's safeguarding and furthering a significant amount of jobs is very exciting and good for Cwmbran and, I would go as far as to say, for south Wales.
"We're expecting work to start in the early part of next year."
Morrisons is expected to create 350 new jobs, of which 100 are full time and the rest part time.
Construction work
And the joint development between the council and Meritor to create a pub, hotel and new offices will lead to 270 new jobs.
Construction work on this part of the project, said Mr Smith, would not start for at least a year or 18 months because of the amount of preparation required, including demolition.
"We would hope that the development of the site for the office space would stimulate other people to invest in the area as well," he added.
Meritor, meanwhile, is expected to add another 150 jobs to the 400 people it currently employs in Cwmbran.
The company will be investing in developing its European technical centre for brakes at the site.
Up to 40 of those new jobs will be in engineering and business development, while the rest would be in manufacturing.
'Anchor employer'
Meritor director Richard Thompson said he was excited by the proposals, which he added would be good for the town.
"We're a major employer in the area and, in many ways, an anchor employer for the area," he said.
"We've been here for almost 70 years so a lot of the people round here have an uncle or grandfather or sister or whatever that's worked here.
"Although it's taken a long time to get to this point, speaking as a neutral, I think it's a good development for Cwmbran."
He paid tribute to the Meritor workforce which he said had been "fully flexible over the last few years through the downturn".
"We want to keep our skills base together and show them the same loyalty as they've showed us. It's good business," he said.
The Cwmbran development has previously been described by Torfaen council as "the single biggest regeneration project of its kind in the town's history".
"Despite the recession, Cwmbran is a place to come to. People are coming and we have got open arms for other people to come as well," said Mr Smith.