Newport's Friars Walk shopping plan moves ahead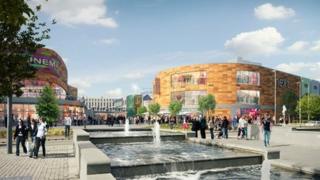 A bid to revamp Newport city centre shopping has taken a step forward after new developers submitted their planning application for Friars Walk.
An original £200m project focusing on John Frost Square was scrapped in 2009.
But new developer Queensberry Real Estate has now lodged a formal application with Newport planners for a new Friars Walk development.
It says its development that will include shopping, restaurants and a cinema is "more deliverable".
Paul Sargent, a partner at Queensberry Real Estate, told BBC Radio Wales although costing around £100m - half that of the previous plans - it would "not be any less attractive or impressive."
"We've gone for a more practical design," he said.
"Obviously there is a lack of confidence that it will happen - it's been spoken about for many years and we are facing challenging times.
"We have designed it as a more deliverable project. We are having very good reception from retailers. I'm hoping that very very soon, imminently, we will be able to announce a department store signing."
Newport council leader Matthew Evans said it was now "full steam ahead" for the project.
"I am pleased that this scheme is progressing well despite the economic downturn, and so far has continued to meet all the deadlines set," said Mr Evans.
Positive discussions
"Queensberry has honoured its commitment to submit the application before the end of this year."
The new centre will combine shopping, restaurants and a cinema in the city's historic square, which is named after the leader of the Newport's Chartist uprising in 1839.
Work on the new complex is expected to start in 2013. The council leader said he anticipated the planning process moving on swiftly in the new year.
"Normally, the target for deciding an application of this size is 16 weeks but, because there have been such positive pre-application discussions, we hope it will reach the planning committee earlier than that," he said.