Cwmbran airline seat firm Contour sold to Zodiac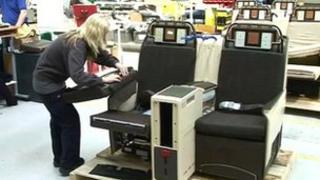 Cwmbran-based airline seat manufacturer Contour Aerospace Ltd is set to be sold to a French rival.
The deal with Zodiac Aerospace SA will need approval from competition regulators but is expected to be finalised early next year.
Contour employs 1,000 workers at its Welsh factory, which opened in 2000 and a further 250 staff in Surrey.
Senior managers at Contour said it was "business as usual" and there was no impact expected for the workforce.
Zodiac Aerospace is a global company with 23,000 staff and revenues of 2.75bn euros (£2.3bn) in 2010/11.
Its aero seat division has competed with Contour for business with airlines.
Contour said its "mission" was to become the number one supplier of airline seating for the first, business and premium economy markets. It produced the first "lie-flat" seats for British Airways.
'Business as usual'
Contour Joint Managing Director, Ian Plummer said: "This signals an exciting new phase in Contour's development".
"Under Zodiac Aerospace ownership a significant number of benefits will accrue to the business, including access to the extensive resources of a much larger aerospace group," said Mr Plummer.
"It is very much business as usual for all at Contour and we will continue to press ahead with our innovative design and concepts for which we have justifiably gained an excellent reputation," he added.
Olivier Zarrouati, Zodiac's Chief Executive, said they were "impressed by Contour's capabilities".
"We are looking forward to working together and, by combining our respective strengths, to develop Contour to its maximum potential," he added.