Blaenau Gwent web TV channel backed by Sir Terry Matthews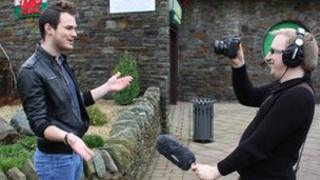 A new internet TV channel backed by business tycoon Sir Terry Matthews is gearing up for its launch.
3VTV is aimed at people in Blaenau Gwent, showing local features and promoting business.
Staff and students at the University of Wales, Newport, have been making films with residents ahead of the channel's launch on 31 January.
Project manager Gemma Collins said: "We want 3VTV to be a true community channel."
It is being run by the Institute of Advanced Broadcasting (IAB), a partnership between the university and the Wesley Clover global investment corporation run by Sir Terry, who made his fortune in technology and also owns the Celtic Manor Resort at Newport.
The project is being partly funded by a £450,000 grant over three years from the Welsh government and aims to boost the economies of hard-pressed communities by exploiting digital media.
Local platform
Blaenau Gwent was chosen for a pilot scheme as a compact geographic area in need of regeneration following the decline of heavy industry.
Miss Collins said the project, based at the site of the former steelworks in Ebbw Vale, had a range of goals.
"The first is to capture the tremendous sense of community cohesion which exists within these valleys communities, and provide a platform for people who live and work in Blaenau Gwent to champion themselves and tell their stories," she said.
"The channel name stands for Three Valleys, because we want everyone from each of the valleys of Blaenau Gwent to feel this channel is theirs.
"The second aim is to promote digital inclusion. By giving people a truly local channel that hopefully they will all want to watch, we aim to provide another reason to go online - and we're working with a variety of partners to help people gain the skills to do so.
"Thirdly, we want to help boost the local economy, and we're doing that by making promotional films for local small businesses and showing them free of charge on 3VTV."
The channel's content is being made by two professional film-makers - graduates of the University of Wales, Newport - who are employed on the project.
Community boost
Students currently at the university are also making films, and the project team is working with community groups to involve as many local people as possible.
One of the first local residents to feature on 3VTV will be Josephine Williams, 91, dubbed the "First Lady of the Steelworks".
A documentary will tell the story of Mrs Williams, from Brynmawr, who was among the first women to work at Ebbw Vale steelworks when the male workforce was depleted in World War II.
Mrs Williams said: "I think 3VTV is a great idea for Blaenau Gwent as we've had it hard.
"A boost will do it good."
Small-to-medium sized businesses based in Blaenau Gwent are also being given the chance to work with the channel's staff to make a promotional film free of charge.
Tania James Price, creative director of Ebbw Vale-based gift company The Flower Stork, said they were pleased to be involved.
"As an e-commerce business we are constantly faced with new technology but internet TV is a new one to us," she said.
"It is an exciting concept and Blaenau Gwent should be proud to be one of the first areas in the UK to embrace this new technology."
The launch of 3VTV comes in the midst of a drive by the UK government to encourage the creation of a new tier of local TV stations to be broadcast alongside the mainstream channels.
Cardiff and Swansea have been named as being among the first batch of 20 licences to be advertised.