Risca Palace cinema reopens as library and Caerphilly council offices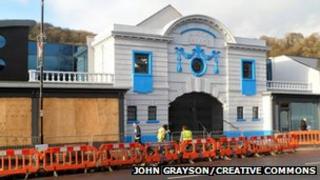 An historic former cinema in the south Wales valleys is being returned to public use as it reopens as a library and community space.
The Grade II listed Palace in Risca cost £2.25m to redevelop after standing derelict for more than 20 years.
Local residents had campaigned to save the building, fearing it would be demolished if it decayed beyond repair.
A short film will be shown on Friday as the finale of a reopening celebration staged by Caerphilly council.
The authority will run a library, customer services, a youth space, meeting rooms and more at the premises as part of an ongoing drive to regenerate Risca.
It also includes space to stage arts events and film nights.
Local landmark
Originally opened around 1912, the Risca Palace was one of the first purpose-built cinemas in the valleys.
It continued to show films into the 1960s, becoming a bingo hall in the 1970s before closing in the mid-1980s.
In June 2009, more than 300 local residents staged a protest march calling for action to preserve the derelict building.
Its owners, Johnsey Estates, subsequently developed the site and leased it to Caerphilly council and Tesco, which plans to open a store in one of its units.
Tony Jukes, archivist with the Oxford House Industrial History Society, welcomed the preservation of a valleys landmark.
"It's nice to see the facade restored and the site put to good use," said Mr Jukes, whose society runs a local museum.
"We're definitely losing more old buildings than we're preserving."
The reopening event at 18:00 GMT on Friday will be hosted by the mayor of Caerphilly, Vera Jenkins. Risca Male Voice Choir, local traders and schoolchildren are among those due to attend the reopening.
She said: "The Palace is more than just a building; it is nearly 100 years old and holds a host of memories for local people who until the 1960s enjoyed seeing the latest movies.
"And now here we are in 2011 opening this magnificent building that means so much to the community."
Town's revival
Allan Pritchard, leader of Caerphilly council, hailed the new library and council offices as the "best of breed".
He added: "The facility will also be capable of hosting art events and a small number of film nights each year, in keeping with its original intended use.
"Our aim is to work with local residents to bring Risca back to its roots as a bustling and thriving town centre where people want to spend time."
The development was made possible by Welsh government funding through CyMAL, the body responsible for museums, archives, and libraries in Wales.