Cardiff's party-hard reputation 'good for business'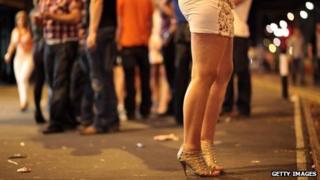 Club and restaurant owners have insisted that Cardiff's hard-partying reputation is good for the city.
With the Welsh capital's bars and restaurants ready for the height of the Christmas season, 100,000 more revellers than usual are expected.
Cardiff has had bad press for its lively nightlife as a result of events such as Carnage UK.
But while some claim it brings shame to the streets, night-time entrepreneurs say the city's profile has benefits.
This weekend is likely to be the busiest of the year, with next week's so-called Black Friday - the last Friday before Christmas - falling only two days before 25 December.
South Wales Police say they will put more officers on patrol over Christmas and have launched a campaign to encourage a responsible code of conduct.
There will be more street pastors deployed and an emergency triage service during the busiest times.
Traditionally the next few days are regarded as both the busiest and most difficult for the emergency services, but the businesses who thrive on Cardiff's nightlife say it also brings wealth into the city.
Restaurant owner Giovanni Malacrino said hen and stag parties in particular have been very good for business, leading to a 5% increase in profits.
"We're getting quality customers coming to Cardiff to party before Christmas. I have people coming from London and across the UK.
"The thing about Cardiff is people can come and do their Christmas shopping, go for a nice meal and then for a drink - and everything is within walking distance from each other," he said.
"Customers always tell me how much they love Cardiff.
'Occasional idiots'
"You get the occasional idiots who the photographers take pictures of and put Cardiff in a bad light but that's just a snapshot of one incident on one night," he added.
Mr Malacrino is also chairman of the city's Cafe Quarter. He believes Cardiff is one of the best cities in Europe.
"Mill Lane has experienced around a 15% increase because of the students and big events," he said.
Alex Power, entertainment director at 10 Feet Tall, said Cardiff's party reputation was a "great thing" for business.
The 30-year-old has been at the club for five years and has seen customer numbers rise.
He said: "In the last couple of years Cardiff has changed. The actual quality and diversity of different places you can go has improved. There's more competition and that's got to be a good thing.
"People are going out to have a good time but also create a creative hub for music and lifestyle, which is really important for the city.
'Cosmopolitan mix'
"People always focus on the bad points - it's the minority of people."
Gary Smith, the director of Cardiff Street Pastors, told BBC Wales that he and his team often had to deal with revellers who are "not in a position to make any complaint".
"They might be face down on the floor or passed out," said Mr Smith
"We help to sober them up, hydrate them and get them conscious again," he said.
An emergency triage unit will be set up at the Millennium Stadium from 17.30 GMT on Friday.
Stadium general manager, and former chief superintendent with South Wales Police, Gerry Toms said: "While the majority of Christmas parties go ahead in good spirits, accidents do happen, and the influx of people can be demanding on city centre services."
While some may argue that Cardiff is a city probably best known for its rugby and drunken nights out, it was ranked as one of the world's top ten destinations by National Geographic magazine.
Cardiff is also increasingly popular for organised stag and hen parties.
A spokeswoman for the Stag Company and Hen Heaven said the capital was a prime location.
"Cardiff is one of the UK's most vibrant cities with a fantastic array of pubs, clubs, bars and trendy night spots," she said.
"In the last six years, it has been increasingly popular. We believe this is due to how accessible it is as a capital city and the cosmopolitan mix of things to do with activities to suit all partying styles."
The company said its customers have praised Cardiff as "a fantastic place to party" because the main strip of bars and clubs are in one area.
"They have also commented on how they find it to be one of the friendliest partying capitals with a positive response from all local residents rather than ill feeling, something that can often occur in a number of other UK destinations," she said.