National Trust leases Tredegar House in Newport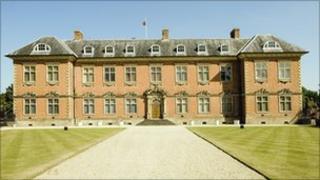 A deal for the National Trust to lease one of the most historic stately homes in south Wales has been completed.
The Trust has agreed a 50-year lease with Newport council for the Grade I-listed Tredegar House which comes into effect next year.
It aims to increase visitor numbers from the current 25,000 a year to 100,000.
Justin Albert, the Trust's director for Wales said it was "privileged" to be looking after Tredegar House.
"Newport city council has been outstanding in its work to preserve and develop Tredegar House as a tremendous asset for the people of Newport and I wish to thank them for entrusting the property to our care," he said.
'New stage'
"We are focused on ensuring the Trust's involvement in this partnership will continue to bring great benefit to Newport, as well as the rest of Wales.
Matthew Evans, leader of Newport council said it would make the future of the house "more secure".
He added: "I would like to stress that Tredegar House still belongs to Newport - this is just a new stage in its long and distinguished history."
Tredegar House was the ancestral home of the Morgan family, later Lords Tredegar, from the 15th Century until 1951.
The building was then used as a private school until the then Newport Corporation bought the property in 1974.
Although the local authority has carried out restoration work in subsequent years, a recent survey found that the house and other buildings on site still needed around £4.5m of major work.
While responsibility for the renovation work is still under negotiation, Newport council leader Matthew Evans said the lease would increase Tredegar House's popularity.
Staff, trade unions, the Friends of Tredegar House and other organisations were consulted during the negotiations.
Anne Pegington, chairwoman of the Friends of Tredegar House, said that the society's initial concerns over the plan had been allayed and that members had a "positive outlook".