Lynette White: Dismissed juror 'consoled witness'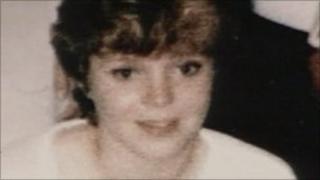 One of the jurors in the collapsed Lynette White perjury case was dismissed from the jury after the defence complained she had consoled a witness on the court steps.
The woman had sympathised with Stephen Miller, one of the Cardiff Three, who had broken down giving evidence.
Mr Miller broke down several times as he gave testimony in court over his treatment in custody for the murder of Lynette White.
It was the wrongful conviction of Mr Miller, Yusef Abdullahi and Tony Paris for the 1988 murder in Cardiff's docklands that led to the UK's biggest-ever trial of ex-police officers.
After Mr Miller gave his evidence, he happened to leave Swansea Crown Court at the same time as the woman juror.
Child care
She was seen to walk over and embrace him. The juror, the mother of a convicted murderer who is still serving his sentence, was also heard to sympathise with him over the way he said police had treated him.
The case, which began in Swansea Crown Court in July, collapsed on Thursday with eight former police officers and two others formally declared not guilty.
The juror was the second to leave the trial once it had begun.
The first was allowed to stand down after telling the court that it might be difficult for her to cover the full term of the trial due to child care problems.
Argument broke out
A stand-by juror was found as the case had 12 jurors plus six stand-by members, all sifted from 400 people considered eligible for the jury service.
But the trial had to be restarted as the juror revealed her child care problems a day after the six stand-by members were stood down.
The prosecutor took one day over his opening instead of three.
After the second juror was dismissed, the trial continued with 11 jurors, until October.
A third juror was lost after she was seen to attack a male counterpart.
The woman was said to be waiting with the jury in a rear corridor of the court building when an argument broke out between her and her colleague.
The incident was brought to the judge's attention who asked the rest of jury if they were "comfortable" to have to continue sitting with them. They were not.
Arrested and charged
The incident happened close to the lengthy adjournment which led to the collapse of the trial.
The ten defendants - eight of them former South Wales Police officers - were arrested and charged in 2005.
Prosecution lawyers had 800,000 items of material to go through, spanning 23 years, to build a case.
The case brought work for every working QC in Swansea and others in Cardiff.