Severn Bridge toll to increase to £6 in January 2012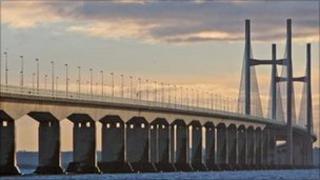 Tolls on the Severn Bridges are set to rise to £6 from 1 January.
Crossing into Wales by car will cost 30p more than the current charge of £5.70.
Small goods vehicles and small buses will have to pay £12.10 - a 60p increase - while heavy goods vehicles and buses will pay £18.10, an increase of 90p.
The Campaign Against Severn Tolls called for a freeze, saying the rise was "a bitter pill to swallow".
A spokesman for Severn River Crossing (SRC) plc confirmed that the new tolls would come into force on 1 January 2012.
He said: "SRC amends the tolls at the start of each new year in strict compliance with the Severn Bridges Act 1992.
"The Act sets down the precise method and base prices for setting toll levels and the adjustment to next year's toll levels, like this year, is in accordance with RPI (the Retail Price Index).
'Bitter pill'
"The new toll levels are confirmed each year by a Parliamentary Order made in December which authorises SRC to adjust tolls to the revised levels."
John Warman, from the Campaign Against Severn Tolls (CAST) said he was shocked by the rise.
"I think motorists will be absolutely shocked as well," he added.
"It'll be a bitter pill to swallow in the new year.
"They should freeze the charges - we can't handle any more increases."