Body of L/Cpl Richard Scanlon returns to UK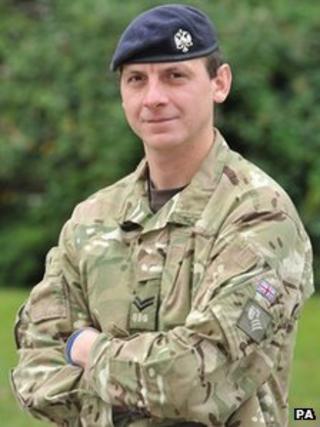 The body of a Welsh soldier killed in Afghanistan when his armoured vehicle was blown up by a roadside bomb has been returned to the UK.
L/Cpl Richard Scanlon, 31, from Rhymney, Caerphilly, was one of two soldiers from the 1st The Queen's Dragoon Guards who died in the blast.
He and Lt David Boyce, of Hertfordshire, were on patrol in Helmand Province last Thursday.
Their bodies were repatriated at RAF Brize Norton in Oxfordshire.
A total of four soldiers' bodies were returned to the UK on Thursday.
A private ceremony for their families was held at the purpose-built repatriation centre on the air base. The cortege then left on its way to the John Radcliffe Hospital in Oxford.
It was escorted at walking pace past the memorial garden in the village of Carterton, where the Union Flag was at half-mast.
'Deployed in Afghanistan'
L/Cpl Scanlon was a Cardiff City supporter and the club said he would be honoured at Saturday's match.
There will be an announcement before the game against Nottingham Forest along with a notice in the match programme.
Members of his regiment have also been invited to attend.
A date has not yet been set for his funeral.
L/Cpl Scanlon had previously served in Bosnia and twice in Iraq.
He enlisted in the army in 1998 and joined the regiment in 1999. He was deployed in Afghanistan on 18 October.
'Great love'
His family described him in a statement as a great character who would be sorely missed.
His mother Cherry, stepfather Robert, father Raymond and sisters Lisa and Emma said: "Richard was a fun-loving young man who enjoyed life to the full.
"He had a great love for his family - always helping them out whenever he could when needed.
"Richard was a great character and he will be sorely missed by his family and all who knew him. There will never be anyone else like our Richard."
Affectionately known as "Shag", L/Cpl Scanlon left the army in 2006 but rejoined in 2009 and was promoted to lance corporal in October last year.
In a statement, commanding officer Lt Col Jasper de Quincey Adams said: "He will be sorely missed, yet his legacy endures in the character of the young soldiers he helped train."