Ebbw Vale £200m racing circuit 'could host MotoGP'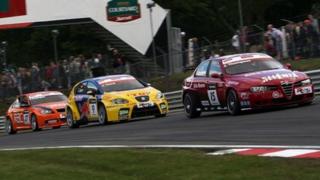 An ambitious £200m plan for a motor racing circuit in the south Wales valleys has been unveiled.
The track at Ebbw Vale would have the potential to host major championships to host the World Touring Car Championship and motorcycling's MotoGP.
Developers say it would create thousands of jobs, while local MP Nick Smith described the plan as "a real game-changer" for the area.
The Welsh government says there are talks but details are confidential.
The circuit is earmarked for the Rassau industrial estate on the Heads of the Valley road
No planning application has been made yet but a firm called the Heads of the Valley Development Company, backed by London-based financiers, has been set up and more discussions are taking place later.
Spokesperson Paul Shackson said: "I can confirm that we are in detailed and very positive discussions with the Welsh government and Blaenau Gwent County Borough Council about delivering a low carbon automotive centre of excellence in Blaenau Gwent.
"It would be of international importance, would transform the region and bring thousands of new jobs.
"Crucially though, it's not just about a new motor sport facility, there would be a substantial amount of investment in high-tech research and development that would really place south Wales on the map of the UK automotive sector.
"We're hoping discussions will be concluded fairly soon and we can then reveal full details."
The developers are understood to be looking at others areas too.
Blaenau Gwent council said talks would be taking place with the Welsh government on Monday to discuss the proposal.
"Blaenau Gwent council would welcome any development that brings high-quality jobs and substantial economic benefits to the area as part of our continued efforts to support employment opportunities, encourage inward investment and support the development of the recently announced enterprise zone," the council said in a statement.
"We are currently in ongoing discussions to look at how we can support this proposal."
Mr Smith, the Labour MP for Blaenau Gwent who has helped co-ordinate early discussions on the scheme, said it was still very early days.
Asked how many jobs it could bring, he replied: "Definitely hundreds, maybe thousands.
"It could make south east Wales a leisure destination for this worldwide biking and motoring audience. And it could establish the area as a centre of excellence for motorsports."
Mr Smith said road connections in the area were good, and that the area provided a good source of employment support in terms of technical and hospitality industry workers.
"Money will be an issue," Mr Smith said. "Primarily this will be a private sector investment but of course they are going to look for some public sector input too.
"We're going to seek financial support from the Welsh government and the Westminster treasury too."
He added: "We've got 25% worklessness in Blaenau Gwent and longstanding poverty for too long.
"All the key players have got to do their very best to help get this proposal to the finishing flag. I'm sure they'll do that."