Abergavenny exhibition portrays real British Resistance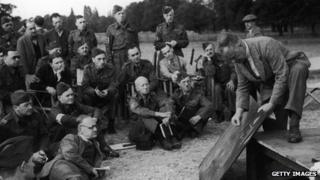 The Welsh premiere of Resistance, set in an alternative 1944 where the D-Day landings failed, will be staged later in the town where it was filmed.
Prince Charles will be among the guests in Abergavenny for the launch of the movie, starring such Welsh talent as Michael Sheen and Kimberly Nixon.
It portrays a Britain whose only hope lies in a secret underground army.
At the same time, the Monmouthshire market town's museum is hosting a British Resistance in Wales exhibition.
The film, adapted for the screen by Owen Sheers from his novel, is set in a world where Britain is partly occupied by German forces. The country is relying on highly trained guerrillas fighting against occupying forces.
But in reality such forces were ready to spring to action had Nazi Germany invaded the UK.
It has shone the spotlight on the real life GHQ Auxiliary Units and the men who were trained to be Britain's last line of defence.
These unsung heroes were bound to silence, signing the Official Secrets Act when they were approached to join the British Resistance.
Their story is now being told as part of an exhibition at Abergavenny Museum, with memorabilia from the film also forming part of the displays.
'Suicide mission'
Curator Rachael Rogers said it was important to highlight the secretive work this elite band of men undertook.
"They signed up knowing that if Germany invaded they would be lucky to live for 14 days; it would have been a suicide mission.
"Their work was so secretive that even their wives were unaware of the special role they might have had to play in the war," she said.
That sentiment is echoed by Sallie Mogford, whose grandfather Les Bulley was part of Jonah Patrol, one of eight units based in Monmouthshire.
"We didn't know anything about his involvement in the Auxiliary Units, as far as my grandmother was concerned he was just part of the Home Guard - they used it as a masquerade," Mrs Mogford said.
Since discovering her grandfather's secret double life, Mrs Mogford has researched the Auxiliary Units in detail and has been instrumental in having some of the bunkers used by the men scheduled by the heritage body Cadw as Sites of National Historic Importance.
Explosives and weapons
She also helped write the information panels for the exhibition at Abergavenny Museum.
They tell the story of how the units were formed in 1940 when Col Colin McVean Gubbins (Commanding Officer Royal Artillery) recruited a dozen regional captains as intelligence officers.
In turn they enlisted men to form cells comprising of around five or six individuals.
The men were issued with explosives and weapons as well as being given vital supplies - all were stored at specially constructed underground bunkers used as their operational base.
When the units were finally stood down at the end of 1944, the only recognition they received came in the form of a "stand down" letter, signed by Col FWR Douglas, commander of the units.
An extract reads: "You were invited to do a job which would require more skill and coolness, more hard work and greater danger, than was demanded of any other voluntary organisation.
"In the event of 'action stations' being ordered you knew well the kind of life you were in for. But that was in order: you were picked men, and others, including myself, knew that you would continue to fight whatever the conditions, with, or if necessary without, orders. "
'Nail bombs'
Many of the men who joined the units took their secret to the grave and it was not until many years later that the part they played in World War II became known.
Ms Rogers said one of the highlights of the exhibition was a copy of the Countryman's Diary which was issued to the men.
"It was designed to look like a seed and fertiliser catalogue so it could sit innocently on any bookshelf," she said.
"But it was actually a manual with instructions on how to make nail bombs called bursters as well as detailed instructions such as how to blow up railway lines, bridges and petrol dumps."
The British Resistance in Wales exhibition is open at Abergavenny Museum until 25 February. Resistance is on general release from Friday.